News Releases
November 10 COVID-19 update for students, staff, and faculty from the President's Office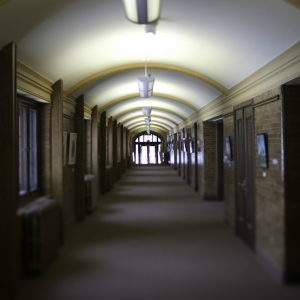 Dear CMU Students, Staff, and Faculty,
It is a beautifully sunny day, and the outdoor air feels crisp and clear. But, the air is not clean and safe in terms of shared breathing spaces, as has been made apparent with today's announcement of increased code red restrictions by the Province of Manitoba.
CMU remains dedicated to taking Manitoba Health's restrictions and advice seriously. Our on-campus protocols and guidelines go over and above Provincial expectations.
In order to sustain a safe environment for everyone, please note the following principles and changes to CMU education and operations.
As a learning community, CMU remains committed to caring for one another, reaching out to one another, and attending to the well-being of one another.

In this time of physical distancing, we all need friendship and connection more than ever.
Gratitude and honour: The CMU community of students, staff, and faculty has been exemplary in practicing good habits of what Dr. Roussin calls the fundamentals. Thank you for wearing masks, covering your coughs, physical distancing, washing your hands often, limiting your contacts, and staying home when you are not feeling well throughout the term. Collectively, let's continue with these habits.

CMU Education continues with online teaching and learning until the end of fall term classes (December 7)

Manitoba Health has stated that an extension of code red for Winnipeg and throughout Manitoba will be in effect for at least two weeks, and quite possibly for four weeks.
CMU will proceed with online teaching and learning for the duration of the fall term, though Manitoba Health has indicated that no closures are required for post-secondary education, as with K-12 schools.
The CMU campus has proven to be a safe environment through the pandemic, and thus remains accessible to CMU students, staff, and faculty, even as some additional limitations are placed on that access.
The CMU Library remains open for students, staff, and faculty for studying and accessing resources.
In honour of the Province's requirement that all persons socialize only with persons in their own household:

Students are welcome to connect with other students on campus for purposes of shared learning activities and class projects, but not for social times. (You're still welcome to say hello and to check in with one another, when you run into others on campus!)"

Shared work times need happen with a limit of five persons in a given space, while physical distancing and wearing masks.
Keep a list of all persons with whom you work at a group project.

Commuter students are welcome to...

Make arrangements to access virtual classes on campus if your home wi-fi is inadequate.
Access needed music practice rooms or other spaces for specific, programmatic purposes.

Students living in CMU residences (apartments and residences)

All residences remain fully operative for all students living on campus
The campus remains available for you to study and access virtual classes while physical distancing.
The Dining Hall will move to a cohort system, in adherence to Dr. Roussin's request to minimize daily contact with others.
Be responsible and accountable to each other by continuing to follow the principles suggested by Dr. Roussin:

Limit your contacts to a very small group of people you could write down at any point. This list should be smaller than 25% of your usual group.
Continue to practice the fundamentals of wearing a mask and physical distancing in all indoor spaces.
Please do not have close contact with people from outside of your household or apartment.

Staff and Faculty

Working from home is welcome for faculty and, where appropriate, for staff.
No CMU employees will be laid off for this period of code red.
Meet online whenever possible to minimize close contacts.
I have learned through CMU that hope is not merely something we wish for. It is the practice of imagining the world differently than it currently is, and practicing what we imagine until it dawns. May our hope take root through the work, love, and prayers for healing in which we share.
God's peace, love, and hope be with you.
Dr. Cheryl Pauls
President
Print This Article