News Releases
Astrophysicist is CMU's 2020 Scientist in Residence
Dr. Haarsma to give public lecture titled "God and the Multiverse"
Dr. Deborah Haarsma (PhD) is no stranger to frontier work. She has studied galaxy clusters, the curvature of space, and the expansion of the universe using telescopes around the world and in orbit. Privately, her research in astrophysics takes her to the very edge of human knowledge and comprehension.
Publicly, as an author, instructor, and speaker, Haarsma's work in knowledge translation places her directly on the frontier between professional and lay audiences, where she must skillfully interpret what is known to the scientific community, what is unknown, and what is uncertain, emergent, or under revision.
All this is not to mention of course that, even in 2020, to be a person of faith in science is often to be on the frontier. Perhaps especially in 2020—when black holes can be photographed and there are voting adults who have never known a world that did not include people in space—questions persist about how (or if) science and religion can cooperate within our worldview as believers. Both a committed Christian and an accomplished scientist, Haarsma lives on these frontiers, and has garnered widespread recognition as an ambassador for "yes."
Previously professor and chair of the Department of Physics and Astronomy at Calvin College, Michigan, today Haarsma serves as president of BioLogos, an online compendium of the latest scientific research inviting church and world to "see the harmony between science and biblical faith [by presenting] an evolutionary understanding of God's creation."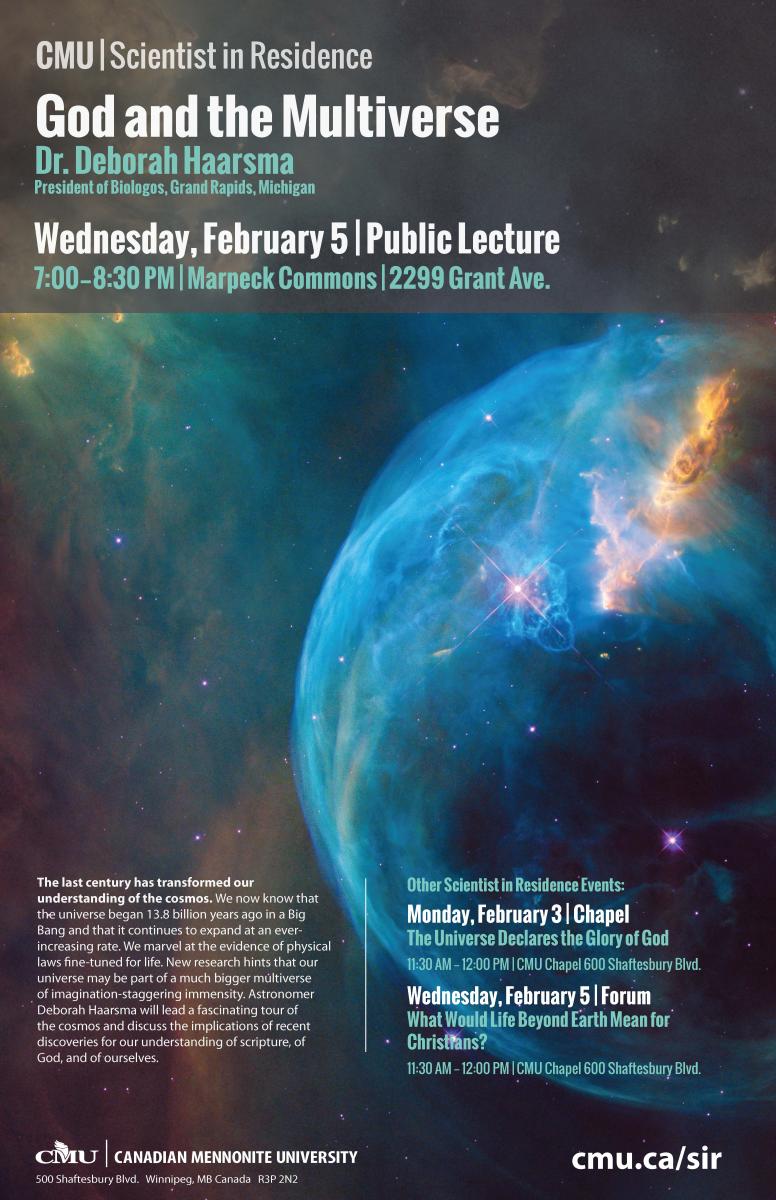 From February 3-5 Haarsma will be on the CMU campus to present, visit classes, and connect with students.
Visitors are welcome to attend any and all speaking engagements, but guests are especially invited to attend Haarsma's public lecture, "God and the Multiverse" on Wednesday, February 5 at 7:00 PM in Marpeck Commons (2299 Grant Ave.). New research hints that our universe may be part of a much bigger multiverse of imagination-staggering immensity. In this talk, Haarsma will lead a fascinating tour of the cosmos and discuss the implications of recent discoveries for our understanding of scripture, of God, and of ourselves.
This lecture will be livestreamed. For further details regarding Haarsma's visit, please visit cmu.ca/sir.
About CMU
A Christian university in the Anabaptist tradition, CMU's Shaftesbury campus offers undergraduate degrees in arts, business, humanities, music, sciences, and social sciences, and graduate degrees in Theology and Ministry, Business Administration, Peacebuilding and Collaborative Development. CMU has 1,600 students, including those enrolled in degree programs at its Shaftesbury Campus and Menno Simons College Campus. CMU is a member of Universities Canada.
For information about CMU, visit cmu.ca.
Kevin Kilbrei, Director of Communications & Marketing
kkilbrei@cmu.ca; 204.487.3300 ext. 621
Canadian Mennonite University
500 Shaftesbury Blvd., Winnipeg, MB R3P 2N2
Print This Article