News Releases
CMU students express gratitude to donors, churches, and Manitoba Government on Tuition Freedom Day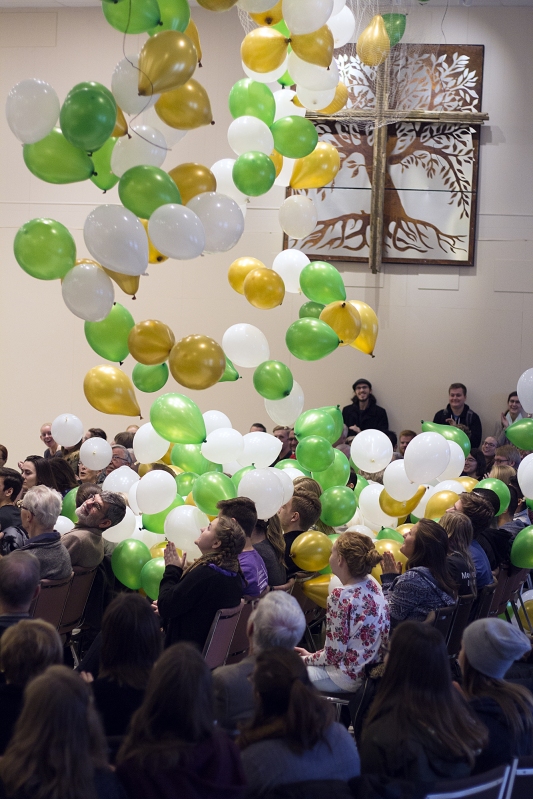 The library is full, the hallways are buzzing, and another busy academic year at Canadian Mennonite University (CMU) is well on its way. And it is thanks to the generosity of donors, churches, and the Manitoba Government that any of this is possible.
On Wednesday, November 20, 2019 at 11:30 AM in CMU's Chapel (600 Shaftesbury Blvd.), CMU students and community will celebrate those who support their education with Tuition Freedom Day.
Tuition Freedom Day marks the end of the fiscal year paid for by student tuition, and the beginning of the year made possible by grants and donations from the Manitoba government, churches, and individual donors.
"It's wonderful that our students at CMU put the time and effort into thanking our church constituency, government, and donors who are willing to give generously to support their educational endeavours," says Marilyn Peters Kliewer, Dean of Student Life.
Doug Klassen, Executive Minister of Mennonite Church Canada, will address the student body on behalf of CMU's church constituency. MaryLou Driedger, an alumna of one of CMU's founding colleges, Canadian Mennonite Bible College, will speak as a representative of this year's donors. Claire Hanson, a fourth-year English major, will thank donors and government on behalf of the students.
The morning will also feature music by a group of student musicians coordinated by first-year music student Joanna Loepp-Thiessen and a pizza lunch to follow.
"Tuition Freedom Day is a celebration of our shared resources as a community," says Inda Piroli, Student Council President. "It is a reminder that people all around us are willing to help students, regardless of financial or cultural background."
About CMU
A Christian university in the Anabaptist tradition, CMU's Shaftesbury campus offers undergraduate degrees in arts, business, humanities, music, sciences, and social sciences, and graduate degrees in Theology and Ministry, Business Administration, Peacebuilding and Collaborative Development. CMU has 1,600 students, including those enrolled in degree programs at its Shaftesbury Campus and Menno Simons College Campus. CMU is a member of Universities Canada.
For information about CMU, visit cmu.ca.
Kevin Kilbrei, Director of Communications & Marketing
kkilbrei@cmu.ca; 204.487.3300 ext. 621
Canadian Mennonite University
500 Shaftesbury Blvd., Winnipeg, MB R3P 2N2
Print This Article