Pianist wins 2022 Verna Mae Janzen Music Competition
April 8 event marks the competition's return to in-person performances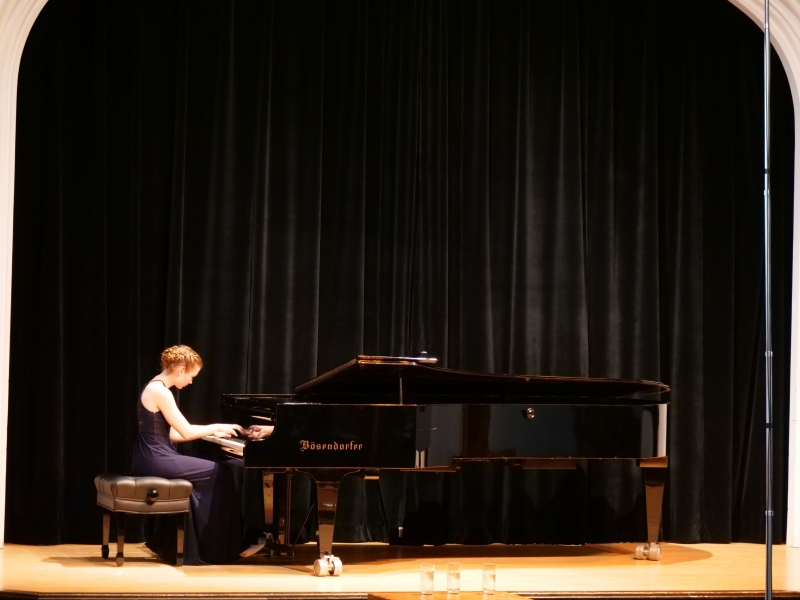 A pianist from Fort Frances, Ontario is the winner of the 17th annual Verna Mae Janzen Music Competition at Canadian Mennonite University (CMU).
Anna Schwartz's performance in the finals, held on Friday, April 8 in CMU's Laudamus Auditorium, earned her first place and the $700 prize that comes with it.
"It was incredibly exciting to learn I'd received first place, but above all else it was so meaningful to get to perform in Verna Mae alongside my friends and colleagues at CMU after a two-year in-person hiatus," she says. "It's been so long since we've had the opportunity to share music with friends and family, and I was just so honoured to be one of the people on stage that evening."
Schwartz has been playing the piano since she was four years old, but began taking lessons at age 12. She is a fourth-year CMU student, working towards a Bachelor of Music in piano performance and music education. This was her second year participating in the Verna Mae Janzen Music Competition; she placed third in the 2020 finals.
Annabelle Hollander, a soprano in her final year of a Bachelor of Music in vocal performance, finished second and received the $500 prize. Joanna Loepp Thiessen, a soprano in her final year of a Bachelor of Music in vocal performance, finished third and received the $300 prize. Georg Neuhofer, piano, and Carrie Schulz, soprano, also performed in the competition.
"I feel that this competition gives us as young performers the opportunity to see what it feels like to be on stage performing for more than just a minute or two," Schwartz says. "The chance to select, prepare, and play a short program is one that is so valuable to us, and I appreciate so much that Verna Mae gives students the opportunity to do that."
Serving as adjudicators for the finals were Dr. Judy Kehler Siebert, a University of Manitoba faculty member who has taught, adjudicated, and performed as a piano soloist and chamber musician around the world; and Andrea Lett, a soprano soloist who has performed across North America and sung in Grammy Award-winning and Juno Award-nominated ensembles.
The judges looked for accuracy and attention to detail through extensive score study and practice, and above all the ability to tell a story. "Those who most effectively communicated their storytelling, with all the other components for this event, were the designated winners today," said Kehler Siebert.
Schwartz played the same set of music for a recital, where she described it to the audience as "a journey through an undergraduate degree. The first piece is like first year at CMU: energized, exciting, a little bit chaotic. The second is the highs and lows of the middle of the degree, encapsulating both the moments of triumph (a good grade) and losses (writing essays at 3:00 AM). The final piece is one of confidence and celebration, showcasing the moment when we finally burst out from the end of our degrees with our artistic voices."
This music competition is made possible by the generous donations of Peter Janzen of Deep River, ON, and is named in memory of his wife, Verna Mae, who died of cancer in 1989 at age 53. For Janzen, sponsoring this music competition is a way of contributing to the success of CMU, something he wanted to do because he and Verna met through their interest in choral singing.
"I always dreamed of someday dedicating a memorial to my wife—a wonderful, loving, sensitive, intelligent, and happy companion," Janzen has said. "Through the Verna Mae Janzen Music Competition at CMU, I can keep her memory alive."
Printed from: media.cmu.ca/news-pianist-wins-2022-music-competition