Stories
CMU celebrates the Class of 2022
The university's largest graduating class sees 108 degrees conferred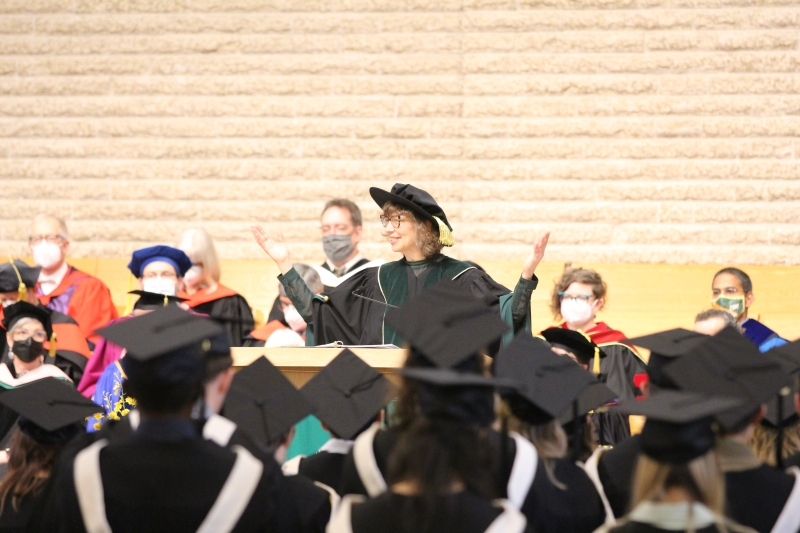 After two years of outdoor ceremonies and air hugs, the Canadian Mennonite University (CMU) community observed this year's graduation in a more familiar way. On April 30, students, staff, faculty, family, and friends gathered at Bethel Mennonite Church to celebrate the Class of 2022.
An excited atmosphere and many masked, smiling faces marked the occasion, as CMU was finally able to once again host an indoor convocation ceremony, also livestreamed online, and reception. With a total of 108 graduates, the Class of 2022 is CMU's biggest graduating class ever.
Many of this year's graduates have done a significant portion of their degrees during the COVID-19 pandemic. They have overcome not only the challenges of assignment deadlines and busy schedules, but also periods of online classes and trying to build community amidst many health and safety precautions.
"We offer public witness of our trust in them as they convocate, for they are worthy of trust. They have been called out together, and in their lives of vocation we honour all that we have learned and received and heard and seen in them," CMU President Dr. Cheryl Pauls said in her opening remarks.
This year's graduation scripture verse was Luke 17:20-21: "The kingdom of God does not come with observation; nor will they say, 'See here!' or 'See there!' For indeed, the kingdom of God is within you." For the first time, both an undergraduate and a graduate valedictorian spoke at convocation.
Odellia Duffus, undergraduate valedictorian
Odelia Duffus (BA, Three-Year, Peace and Conflict Transformation Studies) delivered the undergraduate address. She reflected on the graduating class's journey together—participating in chapels and forums, supporting the CMU Blazers, adapting to the pandemic, promoting anti-racism, working towards reconciliation between Indigenous and non-Indigenous peoples, and more. "To my fellow graduates, to this cohort of professionals with boundless potential, this chapter has sadly come to an end," she said. Despite the challenges they faced and sacrifices they made, and even when their plans didn't come to fruition how they anticipated, Duffus said, "We have been able to move forward despite the unknown and have shown that we're capable of doing what has not yet been done. We are the class who will actively make a difference."
Kim Rempel Smith, graduate valedictorian
Kim Rempel Smith (MA, Theological Studies) delivered the graduate address. She listed the many obstacles master's students have faced during the pandemic: studying with children at home, going to class in the middle of the night when they couldn't get visas to come to Canada, and doing work alone on a screen. "Yet, we are here today. I have witnessed our incredible perseverance and resilience and I have witnessed our commitment to supporting each other," she said. Rempel Smith recalled how COVID-19 has pulled back the curtain on the world's institutions of injustice and systems of racism, genocide, and climate change; how sitting in a classroom has sometimes felt like a frustrating waste of time. And yet learning to think critically, dig beyond surface level answers, and interrogate systems of oppression "are exactly the kinds of skills we need," she added. She concluded that despite changes and disappointments, "through these past few years of learning and growing and pushing through all the challenges, we have become and are becoming people who live out this vision of justice and love."
CMU President Dr. Cheryl Pauls presents the 2022 CMU PAX Award to Dr. Terry LeBlanc
Dr. Terry LeBlanc received the 2022 CMU PAX Award, along with his wife Bev LeBlanc, and delivered the commencement address. LeBlanc, a Mi'kmaq-Acadian, is an educator, community organizer, and the founding Chair and current Director of NAIITS: An Indigenous Learning Community, formerly known as the North American Institute for Indigenous Theological Studies. Pauls preceded LeBlanc with a public apology on behalf of CMU for declining an invitation of partnership from NAIITS in 2001.
LeBlanc reflected on the current age of information. The sheer amount of it that overwhelms us—about the increasing wealth gap, loss of species, disinformation, and countless other issues. We know these things and even understand them, and yet we are not doing enough in response. He asked the graduating class: "How do we apply what we have come to learn, the information we've been given, the knowledge we've acquired, the understanding of that that we now possess? How we use it requires wisdom." He continued, "Here my friends, there's an opportunity for you as graduands, soon to be graduates, to do what generations before have been unable... and unwilling to do. That is, to seek wisdom."
Levi Klassen (left) and Naomi Kerksen (right) with CMU President Dr. Cheryl Pauls
Pauls awarded President's Medals to Levi Klassen (BSc, Four-Year, Biology) and Naomi Derksen (BA, Four-Year, Arts and Science), in recognition of their qualities of scholarship, leadership, and service.
Derksen, 21, hails from Wymark, SK. She has been involved in a myriad of extracurriculars throughout her time at CMU, from serving on student council to being a residence assistant and connecting with international students. She has invested her time in supporting her peers' learning, through the Peer Assisted Learning program, the science student association, and being a research assistant. "A highlight for me was connecting with students from a diversity of backgrounds and places," she says. Next year, Derksen plans to work as a conservation technician at Native Plant Solutions and pursue further studies at graduate school. "This award is meaningful because it recognizes my academic achievements but also my participating in the CMU community, which has fundamentally shaped my character over the last four years," she says.
Klassen, 22, grew up in Calgary, AB and now lives in Winnipeg, MB. Throughout his time at CMU, he has been a leader in many spheres—on student council and the science student association, as captain of the volleyball team and student representative on the CMU Board, Academic Program Council, and Senate. His accomplishments are many, from athletic awards to getting a scientific paper published and giving a presentation at a conference. "At CMU, I was encouraged to invest myself in a variety of areas. My advisors in athletics, student leadership, academics, and research always saw the value (rather than distraction) in my involvement with other things, and that was very freeing for me. That all these opportunities were made available to me at CMU was a blessing," he says. This summer, Klassen will be working as a technician at the National Microbiology Laboratory before pursuing graduate studies in the fall. "I am endlessly impressed by the talents and accomplishments of my classmates, so to receive this award among them is an incredible honour," he says.
Print This Article