Stories
CMU in review: Peace and Justice Studies Association annual conference
A student reflects on her experience of the 2019 PJSA annual conference, hosted this year by CMU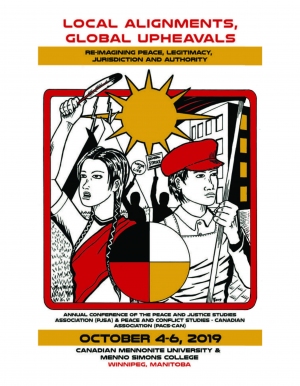 Looking around her neighbourhood coffeeshop, graduate student Lauri Eagles (46) says the chief impact of this year's Peace and Justice Studies Association annual conference, was to refresh her awareness of the people, places, and events that move around her every day.
"My world can feel very small: kids, groceries, laundry, errands, schoolwork. Rinse, repeat. Same people, same roads, same coffeeshop. But attending this conference was a stark reminder that the world is so much bigger than my world—and there's a lot going on!"
In a previous life, Eagles worked as an elementary school teacher, eventually taking a protracted hiatus from that work to raise her young family. She says it was through an "Introduction to Conflict Resolution" class, offered by Mediation Services, that she fell in love with peacebuilding.
With her teaching background, conference-going is well within Eagles' experience: "name tags, listening, and a room full of strangers who may or may not want to be there. Often the latter. We learn a new skill or concept and leave before rush hour traffic sets in."
But, she says, the organizers behind this year's PJSA conference quickly subverted such tepid expectations, striking a tone that would palpably reinforce the content to come: "This conference was different. Opening night, I appreciated the warm, welcoming faces at the door, and what I can only describe as an 'inclusive' feeling in the room. A choir sang the most beautiful music I had ever heard, without lyrics or instruments!"
As the conference gathered steam, Eagles was challenged and refreshed to be immersed in the conference's ad hoc community of academics, all dedicated to her topic, including many members who, though headquarter far away, choose to focus their scholarly attentions right here in Winnipeg.
"The presenters were amazing. I had no idea how far people travel to come to this! It was so exciting to hear international opinions on Winnipeg, and learn about other communities," Eagles says. "The itinerary featured a little bit of everything: climate change, food, small towns, children's books, and social media. I simply hadn't considered peacebuilding through, say, altering social media memes, catfishing white supremacists, painting a butterfly on a city bus, or encouraging children's literature to reflect forced migration. I am forever grateful for these lessons."
Eagles is now in her second year at CMU, completing a master's degree in Peacebuilding and Collaborative Development.
Print This Article