Alumni Profiles
Music Therapy graduate making a difference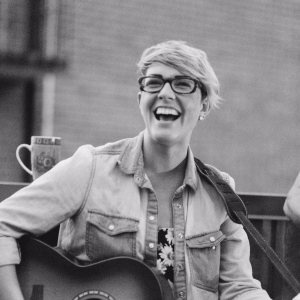 Jesse Dollimont has always known about music's therapeutic effect, but it became especially real to her while working as an intern at the Alberta Children's Hospital in Calgary, AB.
Dollimont, who graduated from CMU with a Bachelor of Music Therapy in 2016, recalls times during her internship when she would go to the hospital's intensive care unit and play music for a child in distress.
Because of the various machines the child would be hooked up to, she could see their heart rate and breathing stabilize right there on the screen soon after she started playing a song.
"It was an incredible thing to watch (my) playing guitar and singing bring everything back to a calm," says Dollimont, who worked at the hospital from September 2016 until this past March. "To watch that result was pretty remarkable."
Although she was nervous going into the internship, and the first few months were among the most challenging of her life, Dollimont eventually found her equilibrium.
Each and every day became a new adventure, and through it all, she felt comfortable, inspired, safe to explore, and passionate about the work she feels called to do.
"It was a real privilege, because it was very different from the work I'd done as a practicum student," Dollimont says.
Dollimont worked in a variety of units in the hospital, including the ICU, the eating disorders clinic, and with hospice patients.
Alberta Children's Hospital serves a vast demographic, so Dollimont was working with people who speak a variety of languages, from all kinds of geographic areas and faith traditions
"It was certainly challenging work, but really, really rich work as well," she says. "I had a lot of reasons and opportunities to take pause and reflect on why it is I do this kind of work, and sort of reflect on the role of music not only as a healing agent, but its place in our humanity and in our culture."
This past summer, Dollimont wrote the Certification Board for Music Therapists exam and became an accredited music therapist.
Shortly thereafter, she began working at JB Music Therapy, a private music therapy practice that serves Calgary and the surrounding area.
Dollimont's portfolio is diverse; she works with everyone from young children to seniors, in a variety of settings.
"I'm loving the work," she says. "(It) is not without its challenges, but most days, it is better than I ever imagined it could be."
A life-long music-maker, Dollimont says her time at CMU helped her grow into a more confident, supportive, and passionate musician.
"While the implications and benefits of my music therapy training are obvious—and impact my work directly every single day—there is much I learned beyond that in conversation, worship, and in the classroom with (my professors) that impact my work just as strongly," she says.
"I could have had a music therapy degree from anywhere, but my studies at CMU... have gifted me with a strength and deep devotion in the work that I do that sustains and transforms me every single day."
Print This Article