News & Releases
Posted in Audio • Sunday, July 7, 2019 @ 12:00 AM
Theme: Leadership and Authority in the Kingdom of God
This month on Sunday@CMU, we are rebroadcasting a sermon series by Janelle Braun, Leadership Development Coordinator for the Mennonite Brethren Church of Manitoba and a CMU alumna. The four-part series explores the topic of leadership and authority in the Kingdom of God.
Posted in Video • Thursday, June 20, 2019 @ 3:38 PM
Posted in Photo Galleries • Thursday, June 20, 2019 @ 12:33 PM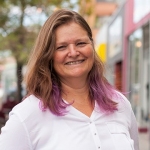 Posted in News Releases • Monday, June 17, 2019 @ 10:03 AM
An instructor from Canadian Mennonite University's Menno Simons College (MSC) and a team of other professors are the recipients of a prestigious federal grant.
Karen Ridd, Instructor in Peace and Conflict Resolution Studies, received a three-year Partnership Development Grant worth $119,000 through the Social Sciences and Humanities Research Council (SSHRC).
Posted in Video • Friday, June 14, 2019 @ 11:13 AM
Print This Article