Student Profiles
CSOP Participant Profile: Debra Wilson
Student finds place of belonging at Canadian School of Peacebuilding
The Canadian School of Peacebuilding (CSOP) has been a welcoming place for student Debra Wilson, who has returned to CSOP for a second time.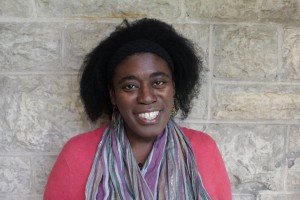 Describing herself as a person of many labels, including feminist, Muslim, Catholic and black-American, Wilson says she initially "didn't think it [CSOP] was a place where she belonged." After contacting CSOP, she says she "kept waiting for someone to say 'don't come,' but that wasn't what happened at all."
CSOP, an institute of Canadian Mennonite University, is a learning community of diverse peacebuilders who come together to learn, network and engage in peacebuilding.
Wilson participated in the course Exploring Indigenous Justice and Healing, which was taught by Rupert Ross. She says her ongoing interest in "what justice looks like for others" was one of the reasons she signed up for this course.
Her interest in attending CSOP stems from years of peacebuilding work in conflict areas, which includes time spent in Dundalk, Ireland, near the end of The Troubles. She describes that experience as one of the hardest times of her life but also as what "kicked up" her peace activism.
"I got to see people who loathed each other but got together for the greater good," she says. "People who had lost people on both sides said they couldn't see the point of [violence]."
Raised by her Catholic father and Muslim mother, Wilson remains connected to both faiths. She's a member of Unity Mosque in Toronto, identifies as a Muslim and also attends a Catholic church in her hometown of Chicago. Wilson says the faith community at her mosque energizes her in her peace work.
"I feel my mosque community is taking back Islam and what they feel are the roots of service and inclusion," she says. "There are some very new immigrants in my mosque, and every single one of them is involved in volunteer service."
Wilson's also energized in her peace work by the "moments and seconds you have when people find some commonality, no matter how simple."
She witnessed such moments of connection during her time in Dundalk. "If these people, who have done horrible things to each other, managed to find a way to facilitate peace, it's always possible."
The welcoming nature of CSOP was complemented by the welcoming experience Wilson receives when visiting Canada. She speaks fondly of the time a border guard stamped her passport and said 'welcome to Canada' without asking her to explain what she calls her "complicated background."
One of the aspects of being a peacebuilder is that "you never stop learning," says Wilson. Through her time and experiences in Canada and at CSOP, she says she's learned about some of her own biases. "If you're going to be an effective peacebuilder, you have to continue to learn and to accept that you probably have your own biases."
Wilson's advice for aspiring peacebuilders is short, but powerful: "Have a strong network. And stronger faith – an even stronger faith."
Ellen Paulley is the Writer & Social Media Coordinator for Canadian Mennonite University
Print This Article