Student Profiles
CSOP Participant Profile: Darnell Barkman
CSOP massively energizing for Canadian peacebuilder working in the Philippines
When it comes to peace work in the Philippines, Darnell Barkman is on the front lines.
Barkman and his wife, Christina, are Mennonite Church Canada Witness Workers, giving pastoral leadership to PeaceChurch Philippines, an Anabaptist church they helped plant in Metro Manila.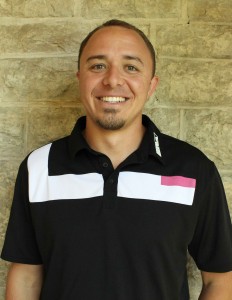 Originally from Abbotsford, BC, the Barkmans have also been instrumental in the development of Peace Assemblies Network, also known as the Philippines Anabaptist Network, a group of peace-oriented individuals and churches who seek to transform their society by embodying a culture of peace in their faith communities in the Philippines.
"Jesus calls us to nonviolence," Darnell says. "That's very distinct in the whole world. That's very distinct in the Philippines."
The Barkmans and their colleagues work for peace and reconciliation between Christians, Muslims, and the indigenous people of the Philippines in a variety of ways.
They respond to disasters by supporting marginalized people who get less help than others, they train military leaders in peacebuilding and human rights through partner organizations, and they challenge the larger church in the Philippines to love their neighbour and seek justice, just as Jesus taught.
"The evangelical church of the Philippines is missing the peace and reconciliation teachings of scripture," Darnell says on his website, DarnellBarkman.com.
"Most leaders and members don't see scripture's ethics and peace teachings. They don't know how to see them – no one has ever highlighted them and they are seldom taught. My goal is that the church centers herself on Jesus' example and teaching as the soul of the faith. His teaching and examples in the Gospel are the primary story we are living to emulate."
Darnell is passionate about Mennonite theology and Anabaptist history, and sharing that knowledge with people in the Philippines. He also describes himself as an "experimenter in personal transformation," discontent to enjoy the status quo and always looking to learn something new.
That's why, when he found out he would be on furlough in Canada when the 2015 Canadian School of Peacebuilding (CSOP) was taking place, he had to enrol.
Darnell travelled to Winnipeg to take the course The Justice of God: Questions of Justice in the Bible and the World, taught by Dr. Christopher Marshall, Professor of Restorative Justice at Victoria University of Wellington in New Zealand.
Darnell appreciated the way Marshall synthesized restorative justice principles with examples from his personal experience.
"What's really cool is how he's involved as a practitioner of restorative justice," Darnell says.
Just as valuable as what he learned in the classroom was the opportunity Darnell had to meet new people at the CSOP.
"Peacebuilding can be very lonely work," he says. Attending the CSOP was massively energizing because it allowed him to connect with other peacebuilders. "It's amazing. It's what we need."
Now back in Manila, Darnell is excited to incorporate what he learned at CMU into his day-to-day work.
"Peace is not just a '60s hippy idea, or an individualistic, new-age feeling," Darnell says on his website. "Peacebuilding has a tangible output: Healed relationships and experienced justice in all sectors of society."
To learn more about CMU's Canadian School of Peacebuilding, please visit csop.cmu.ca.
Print This Article