Stories
The CMU Centre for Resilience: nurturing enterprise for social change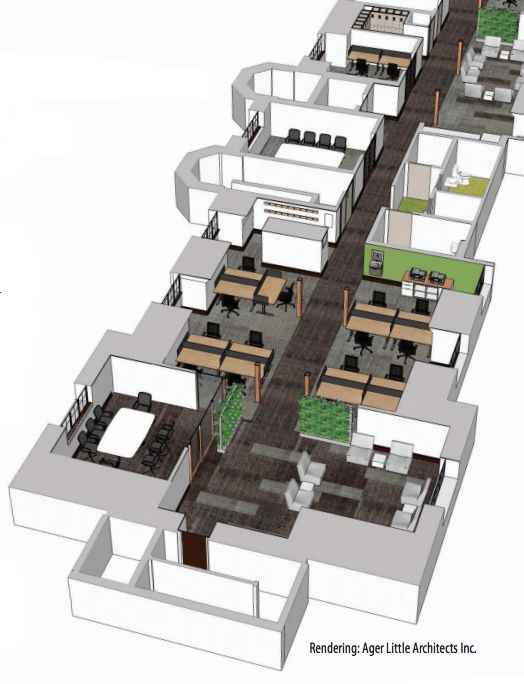 Although it is months away from opening, exciting things are already happening at CMU's Centre for Resilience (CFR).
James Magnus-Johnston, director of the centre, is in talks with numerous groups who are interested in being a part of the CFR, which will incubate and nurture social enterprises.
Magnus-Johnston and his colleagues are currently looking at the $1.7 million centre as two parts: the space on the fourth floor of CMU's historic north side building, as well as the land on the north-west parcel of CMU's property.
The fourth floor will act as office space for social entrepreneurs, and the land will give stakeholders space to experiment with, and showcase, the things they are working on.
Gardens Manitoba, an organization that supports and promotes gardening and horticultural education, is interested in joining the CFR and installing greenhouses on the property.
Compost Winnipeg, a social enterprise that exists to collect compost from Winnipeggers, is also interested in moving its headquarters to the CFR.
The CMU Farm, run by the Metanoia Farmers Workers Cooperative, already occupies part of the land.
CMU President Cheryl Pauls and CFR Director James Magnus-Johnston are joined by Ian Wishart, Manitoba's Minister of Education (left) and Doug Eyolfson, MP for Charleswood-St. James-Assiniboia-Headingley (right).
"What's neat is the natural interplay between the three stakeholders," Magnus-Johnston says, pointing out that Compost Winnipeg will be able to supply the CMU Farm with compost, and the Metanoia workers will avail themselves of one of the greenhouses.
On top of that, Magnus-Johnston is talking with a plumber who has built a heat pump that runs on compost. The two are currently researching whether or not it's feasible for these pumps to heat greenhouses.
"That's where the joy is," Magnus-Johnston says of the interplay that can happen between CFR stakeholders. "As a university, we should be able to experiment with new ideas, and if you think of faith as action in spite of the completely knowable—action in spite of uncertainty—all of these things are acts of faith in that regard."
The CFR's goal is to develop policy, design, and enterprise innovations for a resilient economy that improves social equity and environmental protection.
"I have a love/hate relationship with the word innovation" Magnus-Johnston says. In trying to make sense of how the CFR will be innovative, he went back to the Latin meaning of the word. To be innovative means to do something in a new way.
Print This Article