Breaking barriers: CMU alumnus defends doctoral dissertation on disability theology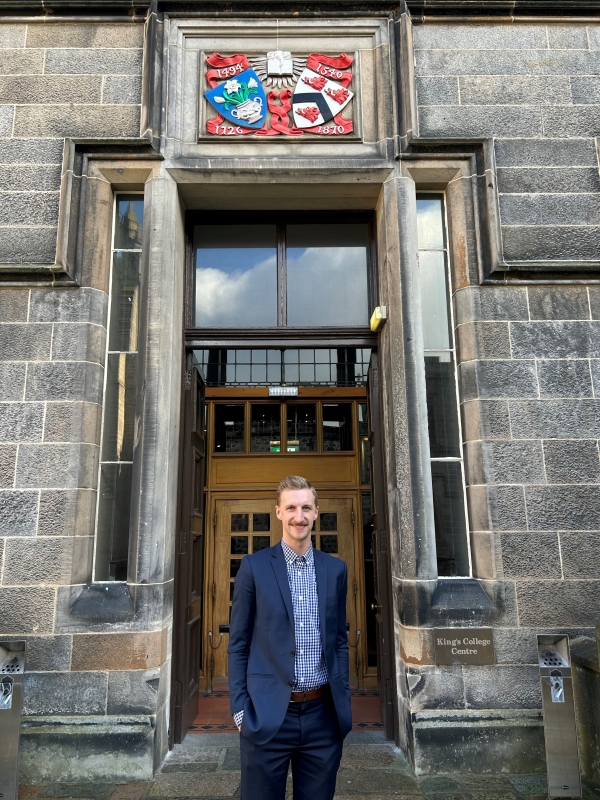 Daniel Rempel is smiling from ear to ear.
Having successfully defended his doctoral dissertation at the University of Aberdeen in Scotland just a week before the Zoom interview for this story, Rempel was visually, and rightfully, excited to share on his research on the often-overlooked field of disability theology.
Rempel graduated with a Master of Arts in Theological Studies from Canadian Mennonite University's (CMU) Graduate School of Theology and Ministry in 2019. He carried that momentum with him through his three-and-a-half-year journey that he says "really set me up for success in the PhD program and beyond."
Academics and Doctoral Dissertation
Disability theology, as Rempel explains, looks at "why, from a theological perspective, we should view people with disabilities as having inherent worth and value."
Rempel says this is obviously a 'no-brainer' but continues, "what I'm trying to say is a little more radical than any sort of surface-level interpretation."
Rempel's dissertation, titled Intellectual Disability and the Christian Life: A Study in Karl Barth, Disability, and Witness, examines how people with intellectual disabilities participate in Christian witness. "I wanted to try and put language to these encounters we have with people who have intellectual disabilities," says Rempel. "I want to speak on the effect those with intellectual disabilities have on those that they encounter on a day-to-day basis, and with a theological perspective, talk about what we can learn about God, humanity, and a way of being in the world."
"Witness kind of catches us off guard," says Rempel. "It's a way that God continues to be revealed in history, and this happens through the lives of people with intellectual disabilities, it happens with able-bodied people, with whoever if they are caught up in the movement of Christ's grace and Christ's act."
"It was a very particular thing I was looking for," says Rempel, reflecting on why he chose to study at the University of Aberdeen. "I wanted a place that had [academic supervisors] that had expertise both in the theology of Karl Barth and in disability theology," says Rempel. He found it in Scotland, particularly drawn to his doctoral supervisor, Brian Brock, a leading figure in the field.
Rempel started his doctoral studies in the Fall of 2019. COVID-19 forced him to stay primarily in Winnipeg during his studies, only making a handful of trips to Scotland.
Rempel was involved in the program part-time and finished in three-and-a-half years. He says, "I had done a previous MA thesis at CMU on Barth and disability theology, so that allowed me to work through at a slightly quicker pace."
Work and Integration
"The common refrain in disability studies and work is 'Nothing About Us Without Us,'" says Rempel. "So if I want to talk about this, I need to be involved."
Serving as vice-chair of the L'Arche Winnipeg board has allowed him to do just that. L'Arche is an intentional living community where members, with and without intellectual disabilities, share life together. It breaks down the barriers between those who give and those who receive support.
He says one of the draws to join the board was that they would be hosted in one of the L'Arche homes, and board members would have opportunities to eat dinner and chat with the home's core members—those with intellectual disabilities that live in the home. Unfortunately, since Rempel's joining, COVID-19 has prevented that from happening.
"I haven't met as many of the core members as I would have liked, which does put me in a funny spot making decisions on behalf of these communities," confesses Rempel. "But I think the perspective I've learned both working for six years as a support worker as well as through disability theology does factor into my work on the board and how we make decisions."
CMU's Associate Professor of Theology and Anabaptist Studies, Paul Doerksen, serves on the L'Arche board with Rempel. He says, "It's exciting to see this combination of first-rate academic work combined with direct involvement, in Daniel's case."
"It's important work he's doing, and he's doing so at a high level," says Doerksen.
Looking Ahead
Doerksen says he's glad to see the field expanding in meaningful ways. "I think disability theology, taken seriously, presses the church to consider whether we are acting like the body of Christ in our practices and attitudes."
Doerksen says he's increasingly turning to disability theology for his courses at CMU. "I'm currently teaching a course on Theological Anthropology and am using a book from within the field [of disability theology]—thinking through what it means to be human, especially as a Christian, has to be able to include people with disabilities if it's to be fully Christian," says Doerksen.
"If a church is to truly be reflective of the body of Christ," says Doerksen, then "the church ought to ask if we are open to hearing voices and receiving gifts from people with disabilities, as actual/real members of the body."
He says that disability theology resists the 'us' and 'them' categorization that prevents a church or an institution from deepening its understanding of what it means to be the body of Christ.
Rempel points out how disability theology often "circles around the same ideas again and again" and hopes his contribution brings "a little more theological weight" to the field. Or at least give people something to consider, he says.
"By studying theology from a different perspective that is not my own, I've found that I've benefited and churches, Christianity, universities, can benefit examining things from a different perspective; that doesn't exclusively apply to disability theology either," says Rempel.
Rempel is optimistic that his dissertation will eventually become published into a book, and with it coming in at roughly 300 pages long, would undoubtedly make for a comprehensive read on the subject matter.
He is currently sessional teaching at The University of Winnipeg and Providence University College and Theological Seminary and hopes to continue post-secondary teaching in the future.
"I want to continue to be involved in the life of the church and to continue to be an advocate for people who maybe can't speak for themselves," says Daniel. "From a purely academic perspective, I don't know how much of my future will be purely in disability theology, but at the same time, I don't think I'll ever lose the perspective that my time spent working with and writing about people with intellectual disabilities has given me. That has formed and re-formed me in very deep and meaningful ways."
Printed from: media.cmu.ca/alumni-daniel-rempel-defends-dissertation-on-disability