Alumni Profiles
CMU alumna brings climate action into the provincial election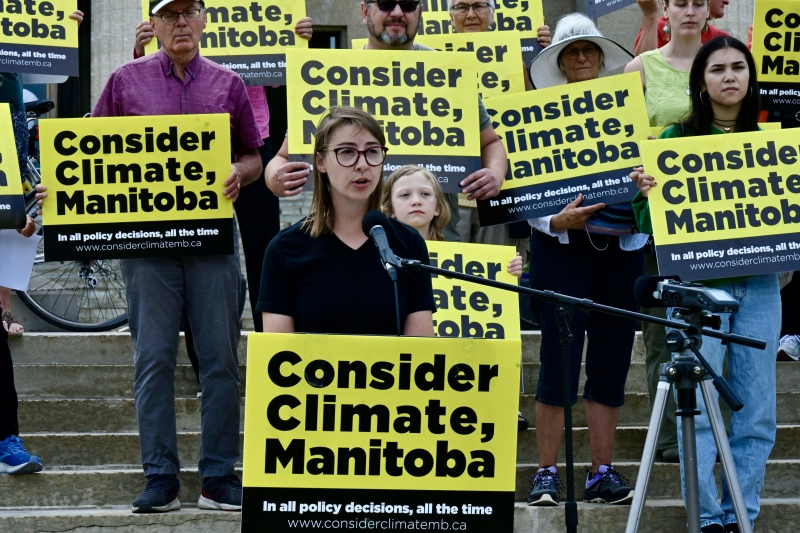 In 2019, the Intergovernmental Panel on Climate Change released a report stating that a global average temperature increase of 1.5ºC above pre-industrial levels would significantly increase the severity and occurrence of extreme weather events, forever altering Earth's ecosystems.
The World Meteorological Institute estimates we are on track to hit that sustained average temperature increase in roughly a decade. Worse yet, there is a 66 per cent chance of that occurring temporarily within the next five years. The time for climate action is now.
Bethany Daman is one of those who lead the charge in Manitoba.
Daman (BA Communications and Media, '17) is part of an advocacy group that recently started a new grass-roots campaign called Consider Climate, Manitoba (CCM), aimed at prioritizing climate action for elected officials and candidates ahead of the 2023 provincial election.
On July 12, Daman and her colleagues officially launched the campaign on the evergreen north lawn of the Manitoba Legislative Building, marking a turning point in the province's fight against climate change.
In her opening remarks of the campaign's press conference, Daman reflected on how the climate emergency has historically been used to tear people apart, weaponized as a political tool rather than an active emergency that affects all people.
"In a recent conversation, when someone approached me with their doubts about climate change, I was left evaluating my responses. What if rather than trying to convince someone of my way of thinking, I put more effort into building relationships and finding common ground," said Daman.
Daman said the non-partisan campaign is rooted in Manitoba's Road to Resistance, a report published by Manitoba's Climate Action Team which maps out the strategies and action needed for Manitobans to act on the climate emergency and build a stronger community.
A recent Probe Research poll found that 75 per cent of Manitobans believe climate action should be incorporated into political decisions by the provincial government, and Daman feels that level of support can't be ignored.
The CCM is asking elected officials to guarantee the support of five commitments to climate action. The commitments all revolve around reducing greenhouse gas emissions within provincial transportation and infrastructure, creating a just transition of jobs, and helping Manitobans adapt to the effects of climate change.
"One thing about the climate is that it's such a high-level overarching crisis linked to so many other challenges," explained Daman after the press conference while taking the time to sit down and talk with CMU.
The CCM campaign said Daman might be focused on the climate but is also trying to address many other issues like healthcare and affordability, all of which are intrinsically linked. "When we're looking at the climate crisis, I think it's really important to think about how these human impacts are affecting people's health."
Increased pests for farmers, wood ticks carrying Lyme disease, and wildfire smoke-related respiratory complications are all symptoms of an increasingly hostile environment.
Manitoba spends over $2-billion annually importing natural gas from outside the province, and Daman said there is room for change. "If we were to be able to focus on no longer relying on importing that fuel from outside of the province and rather build our local economy through increased wind capacity, that could create more green jobs in Manitoba."
Daman also said many Manitobans live in very old, inefficient homes and struggle to afford monthly bills. "Those bills could be decreased significantly if people had accessible supports to help make their homes more energy efficient."
"So, all these different challenges will help make Manitoba a better place to live."
The fact that the climate has become a political issue that disintegrates public discourse and furthers polarization is disappointing for Daman, and she said that CCM is working to break down those barriers.
"I think one thing we are really trying to focus on is bringing people together and helping everyone recognize that climate change is an issue that is going to affect everybody," said Daman. "It's something that people across party lines could and should get on board with."
CCM's grass-roots approach means there is always room for volunteers and supporters. "We're wanting people to be able to follow along and learn more about the solutions Manitoba has so that people are able to have conversations with candidates in their area about the climate," said Daman. "It's very exciting to bring people together on this issue that affects all Manitobans."
Before packing up her supplies at the legislature and getting on her bike, Daman left with a comment on the effect CMU had on her.
"I'm very thankful for the lens that CMU provided me through my communications studies. Understanding that listening to people and their perspective is very important when we're looking at building communities and making our province a better place."
Related: Winnipeg Free Press story
Print This Article