Alumnus reflects on the heart of generosity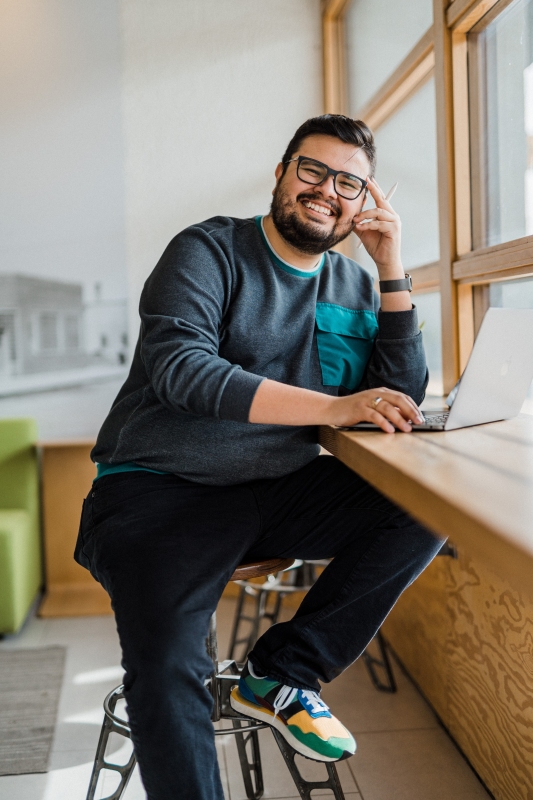 "I have always been a storyteller," says Ben Borne over a Zoom call from his home in Saskatoon, SK. " And what I'm really good at is bringing people together."
Since graduating from CMU with a Bachelor of Arts in 2013, Borne's various endeavors and accomplishments— which are innumerable, but include podcast host and founding his own public relations firm—all share that similar theme: storytelling.
Conversations with Borne hold as much hearty laughter as they do deep introspective thought. While describing his work, there is a clear intention behind his actions, and It's evident he strives to find new and electrifying ways to connect with the people he works with.
Aside from working as a sessional lecturer at the First Nations University of Canada or serving as a managing partner for Eagle Feather News, Borne's pride and joy has been Symmetry PR. As the founder, president, and chief operating officer, Borne's energy and passion for sharing ideas, meeting new people, and learning from one another are unequivocal.
Started three years ago with his friend and business partner Melody Lynch, Symmetry PR is a communications and public relations firm that works to strengthen communities, primarily through supporting and engaging with Indigenous entrepreneurs and businesses.
"At the heart of generosity, and at the heart of dialogue is communication and relationship building," says Borne, reflecting on the coupling of public relations professionals as storytellers. "When we work with clients, we push them to be hospitable and to welcome difference audiences... We ask organizations to 'set the table' and have a discussion with the public."
Borne says that Symmetry PR tries to do everything socially responsibly. The company's website states, "more engaged, responsible, and connected communities working together to advance reconciliation with Indigenous peoples." As a member of Yellow Quill First Nation, Borne's work demonstrates his desire to engage and support his communities by bringing folks together to advance reconciliation and increase trust between settlers and Indigenous peoples.
Borne says that an emphasis on meaningful dialogue ought to be the standard for an industry dominated by detached metrics. "When I think about marketing, it's very focused on audiences—using passive and low interactive media formats. Public relations is very highly interactive. It's where you're going out and asking about public opinion, asking how organizations can align with public need," says Borne. "I think it's kind of radical in some sense—we are asking these organizations to enter into a relationship with the public."
Borne graduated from CMU with a major in Biblical and Theological Studies with a heart set on pastoral ministry. As he became increasingly drawn to the world of communication, Borne says his skills transferred far more smoothly than expected. "It's still writing, storytelling, constructing a narrative, and calling people to action. The core tenants of preaching are still the same when it comes to communication," says Borne.
After 10 years in the workforce, Borne says the importance of relationships, community, and intentionality are the most valuable lessons from CMU that he still carries with him. "I'm really proud of the times that I've had at CMU."
Between profiles like this in The Blazer and hiring a CMU student as a paid intern at Symmetry PR, Borne still likes to keep in contact with the university. He says connections with people and places in our lives are more important than we might think; "it's part of the way we work together to make the world a better place."
This story taken from the Summer 2023 issue of The Blazer magazine.
Printed from: media.cmu.ca/alumni-alumnus-reflects-on-the-heart-of-generosity