Video
Final Performances from the 2021 Verna Mae Janzen Music Competition (videos)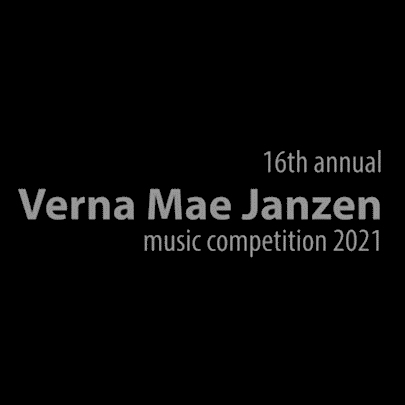 The 16th annual Verna Mae Janzen Music Competition finals are held virtually in 2021, with performanaces recorded to comply with COVID-19 pandemic restrictions.
This year's edition of the competition features two seperate categories and winners in both voice and piano performances. The winner of each category is announced by adjudicators Henriette Schellenberg (voice) and Dr. Edmund Dawe (piano) at the conclusion of each video below.
Vocal performance finals will be available for viewing on Thurusday, March 25 at 7:00 PM. Come back to see the piano finals on Friday, March 26 at 7:00 PM.
The competition is made possible by Peter Janzen of Deep River, Ontario, and named in memory of his wife, Verna Mae, who died of cancer in 1989 at age 53.
Voice Competition (view on March 25, 2021 | 7:00 PM)
Michelle Fast, soprano
Michelle Fast is a soprano in her fourth and final year of a Bachelor of Music, pursuing concentrations in Vocal Performance and Music Education (Senior Choral Stream). She has actively surrounded herself with music for most of her life, singing in choirs throughout her primary and secondary education, competing in voice competitions, playing the violin, and serving on her church's worship team. At CMU, Michelle has enjoyed singing in the choral ensembles, and performing in Opera and Musical Theatre Workshop productions of City Workers in Love and Godspell. She is studying voice with Dawn Bruch-Wiens and is looking forward to singing in this year's final round of the Verna Mae Janzen competition again
Program
"Alleluja" from Exsultate, jubilate – Wolfgang Amadeus Mozart (1756–1791)
"Der Mond kommt still gegangen" from Liebeszauber, op. 13 – Clara Schumann (1819–1896)
"Les oixeaux dans la charmille" (The Doll Song) from Les Contes d'Hoffmann – Jacques Offenbach (1819–1880)
Johanna Klassen, soprano
Johanna Klassen, soprano, is a music education student in her third year at CMU. She is pursuing a concentration in Senior Years Choral Music Education as she values the importance of making music in community, and working with children and youth is her passion. Johanna has engaged in musical activities for most of her life, singing in choirs and playing oboe in concert bands in a variety of contexts, including at CMU. She is studying voice with Dawn Bruch-Wiens and has continued to seek out places to perform in the past year, recording music for church services and virtual music competitions. Johanna is thrilled to be participating in the Verna Mae Janzen Music Competition again!
Program
Cuatro Madrigales Amatorios – Joaquin Rodrigo (1901–1999)
"De los álamos vengo, madre"
"Von Ewiger Liebe" – Johannes Brahms (1833–1897)
"Io son l'umile ancella" from Adriana Lecouvreur – Francesco Cilea (1866–1950)
Annabelle Hollander, soprano
Annabelle Hollander is a soprano and a fourth-year vocal performance major. In addition to her musical studies, she is also completing a science minor. Annabelle grew up in Winnipeg with her parents, sister, and two dogs. She attributes much of her love of music to her family as music has always been encouraged by her parents. Annabelle has been singing for fun ever since she could talk and has taken voice lessons for the last six years. This is her second time performing in the Verna Mae Janzen competition and is excited for the opportunity to perform in such strange times.
Program
"Adieu notre petite table" from Manon – Jules Massenet (1842–1912)
Brindisi – Giuseppe Verdi (1813-1901)
Stupid with Love from Mean Girls – Jeff Richmond (b. 1961)
Joanna Loepp Thiessen, soprano
Hailing from Kitchener, Ontario, Joanna Loepp Thiessen is in her fourth year of a Bachelor of Music degree with a concentration in Vocal Performance. A graduate of Rockway Mennonite Collegiate, Joanna studied voice for two years at Wilfrid Laurier University before arriving at CMU, where she studies with Dawn Bruch-Wiens. In the past year, Joanna was awarded the Abner Martin Music Scholarship, earned first place in the Manitoba NATS competition, and had a performance feature on CBC Radio. Joanna is thrilled to be participating in the Verna Mae Janzen competition this year and is even more thrilled to be able to make music in a time like this.
Program
"Ich folge dir gleichfalls" from St. John Passion – Johann Sebastian Bach (1685–1750)
Canción – Manuel de Falla (1876–1946)
Nana – Manuel de Falla
"Ah, je ris de me voir" (Jewel Song) from Faust – Charles Gounod (1818–1893)
Carrie Schulz, soprano
Soprano, Carrie Schulz, is a second year student working towards a Bachelor of Arts degree with a major in music. Carrie enjoys the individual practice of singing and has performed in musicals, as well as Provincial and Winnipeg Music festivals. She is also passionate about choral music and is a current member of the Winnipeg choir Prairie Voices. Carrie will always be a part of the choral community and believes that her musical training will continue to provide valuable skills that she can use in all aspects of her life. Carrie studies voice with Judith Oatway and is thankful for what she has learnt and is excited to continue to grow. She is grateful for and looking forward to the opportunity to perform in the 2021 Verna Mae Janzen Music Competition.
Program
Hans und Grethe – Gustav Mahler (1860–1911)
Mandoline – Gabriel Fauré (1845–1924)
Deh Vieni, Non Tardar from Le Nozze di Figaro – Wolfgang Amadeus Mozart (1756–1791)
Piano Competition (view on March 26, 2021 | 7:00 PM)
Georgeanne Van Helden
Georgeanne is in her third year of a Bachelor of Music degree with a concentration in piano performance and is currently studying piano under Shirley Elias. She grew up in Calgary, beginning her piano studies at age five. She completed her ARCT in Piano Performance in August 2015 and her Licentiate Diploma (LRCM) in Piano Performance in January 2017. She has participated in the Calgary Performing Arts Festival, the Canadian Music Competition, and the Alberta Performing Arts Festival for many years. In 2016, Georgeanne placed third in the provincial round of the CFMTA National Piano Competition in Red Deer, Alberta. She was also a student at the Academy of Music for Gifted Youth at Mount Royal University for five years and has attended the Cassa Musical Arts Piano program for 12 years. Some of Georgeanne's hobbies include playing with her dogs, reading a lot of books, and cheering for the Calgary Stampeders of the Canadian Football League.
Program
Variation Fugato from 13 Ways of Looking at the Goldberg – Bright Sheng (b. 1955)
Fantasy and Fugue in A Minor BWV 903 (Fantasy only) – Johann Sebastian Bach (1685–1750)
Pavana – Alicia de Larrocha (1923–2009)
IV. Rigaudon from Le Tombeau de Couperin – Maurice Ravel (1875–1937)
Bethany Wiebe
Bethany Wiebe grew up in Winkler, Manitoba. Bethany has played piano almost all her life, since she was four years old. She is passionate about music and enjoys sharing it with others. Bethany is in her second year at CMU and is planning on pursuing a performance focus in her Bachelor of Music degree. She came to CMU because she liked the small class sizes and the sense of community. Aside from playing piano, Bethany enjoys reading, drawing, playing chess, and spending time with friends and family.
Program
Rhapsody in G Minor Op. 79 No. 2 – Johannes Brahms (1833–1897)
Invention No. 5 – Alicia de Larrocha (1923–2009)
Scherzo – Oskar Morawetz (1917–2007)
Anne Kelm
Currently in her third year of a music degree in piano performance, Anne Grace Kelm looks back gratefully on her music making opportunities thus far—completing RCM exams through to ARCT, playing piano for seniors, composing for and singing with her church choir, teaching piano, studying music and piano at university, various opportunities for performing since, and with COVID-19, starting her own YouTube channel "Grace Notes" to perform and share music and encouragement. For her, the most exciting and significant aspects of music are the ways it can be used to tell stories, to connect with people and give them a place to feel and express emotion, and to be a blessing and encouragement while drawing people to the God who gave us this gift.
Program
Aria and Variations I from Goldberg Variations – Johann Sebastian Bach (1685–1750)
Souvenir D'Andalousie – Louis Moreau Gottschalk (1829–1869)
I. Missing Moon from Eight Memories in Watercolour – Tan Dun (b. 1957)
Etude in C Major, Op. 10, No. 1 – Frédéric Chopin (1810–1849)
Georg Neuhofer
Georg Neuhofer is from Inglis, Manitoba, a small village about two hours north of Brandon, Manitoba. He started playing piano when he was six years old and has continued to play since then. Festivals were always an event Georg partook in and he was often fortunate to represent his local festival at the provincial festival as well. Georg has also completed his Royal Conservatory of Music Grade 10 Exam and is planning on attaining his ARCT in the future. He is currently studying to do a Bachelor of Music Education and hopes to be a high school band teacher someday. In Georg's free time he likes to listen to jazz and classical music, play saxophone, and explore nature.
Program
Invención no. 4 – Alicia de Larrocha (1923–2009)
II. Lebhaft – Marschmäßig from Sonata no. 28 – Ludwig van Beethoven (1770v1827)
Valse III from 4 Lyrical Fragments, op. 23 - Nikolai Medtner (1880–1951)
Kontraphunktus – Derek Bermel (b. 1967)
Prelude 17 from 24 Preludes in Jazz Style, op. 53 – Nikolai Kapustin (1937–2020)
Adjudicators
Henriette Schellenberg, soprano
Winnipeg soprano Henriette Schellenberg has enjoyed an international concert and oratorio career, and has worked with renowned conductors such as Charles Dutoit, Robert Shaw, Zubin Mehta, Andrew Davis, Seiji Ozawa, Helmut Rilling, Ivars Taurins, and Bernard Labadis, in Europe, Israel, the Far East, and throughout North America. In Canada she regularly performed with orchestras from Victoria to Halifax, including the Winnipeg Symphony, Toronto Symphony, Montreal Symphony, Tafelmusik, and Vancouver Symphony. Her discography includes works with the Atlanta Symphony Orchestra, Bach Choir of Bethlehem, CBC Vancouver Orchestra, and several CBC recordings: "The Gift of Messiah", Britten's "Les Illuminations" with the Manitoba Chamber Orchestra (which received a Juno nomination), and a Clara Schumann CD with Irmgard Baerg.
She is sought after as a juror, adjudicator, and masterclass teacher across Canada, and was Assistant Professor of Music (now emeritus) at Canadian Mennonite University for 15 years, teaching voice, lyric diction, and vocal pedagogy. Before that she taught voice at University of Manitoba, Concord College, Canadian Mennonite Bible College, and maintained a private studio in Winnipeg.
Henriette received her music training in Winnipeg as a pianist and singer at the University of Manitoba, studying with Sylvia McDonald and Garth Beckett, and at the Nordwestdeutsche Musik Akademie in Germany with Theodore Lindenbaum and Bunther Weissenborn. She studied piano, voice and opera, and sang in Germany for eight years before returning to Canada to establish her singing and teaching career.
She was a member of the Manitoba Registered Music Teachers Association, as well as a founding and executive member of the National Association of Teachers of Singing since the establishment of the Manitoba branch.
Since her retirement, Henriette and her husband, conductor Rudy Schellenberg, live in British Columbia, close to their children and grandchildren.
Dr. Edmund Dawe, piano
Praised for his technical command of the piano and artistic interpretations, Edmund Dawe has performed in North America, Europe, Asia, and the Middle East. He has been twice nominated for an East Coast Music Award (Best Classical) for his solo recording, Sonatas, and piano duo recording, Dialogue, with colleague Lynn Johnson. His work has been recognized with grants from provincial arts councils, the Canada Council, and the Foundation to Assist Canadian Talent on Records (F.A.C.T.O.R.).
An engaging speaker and respected teacher, Edmund has given numerous presentations at pedagogy conferences in Canada, the United States and Australia. He has adjudicated over 30 Canadian competitive music festivals from Whitehorse, Yukon to St. John's, Newfoundland, and has served as a juror for the Juno Awards.
In a career spanning over three decades, Edmund held academic and administrative appointments at several Canadian universities including 17 years at Mt. Allison University where he was twice recipient of a Paul Paré Award for excellence in performance. From 2007–2018, he served as Dean of the Desautels Faculty of Music at the University of Manitoba. Edmund led the Desautels Faculty of Music through a period of growth, including construction of new facilities combining the restoration of a historic building with new state-of-the-art rehearsal, recording, and multimedia spaces. In 2018, Edmund retired from the University of Manitoba and was appointed Dean Emeritus. He now devotes his time to performance, adjudicating, and research on piano pedagogy. In February 2021, Edmund launched a podcast: 'For Piano Teachers' that currently has listeners in 13 countries.
Recognized for a distinguished career, Edmund is listed in the 2021 Canadian Who's Who Directory. Documenting the accomplishments of Canadians from a wide variety of professions, Canadian Who's Who records the national diversity of culture and provides information on the accomplishments of notable Canadians, from coast to coast.
Print This Article