News & Releases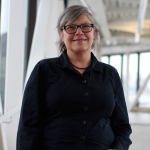 Posted in Faculty Profiles • Tuesday, May 21, 2019 @ 9:47 AM
Lynda Loewen, Instructor of Psychology, has taught at CMU as a sessional instructor since 2009 and full-time since 2013.
What do you love about your work here?
Posted in Stories • Friday, May 3, 2019 @ 3:00 PM
Erin Froese and Mackenzie Nicolle are the 2019 recipients of Canadian Mennonite University's (CMU) President's Medal Awards.
CMU President Dr. Cheryl Pauls presented the awards during CMU's 2019 Graduation Exercises on April 27. Froese and Nicolle received the awards in recognition of their qualities of scholarship, leadership, and service.
Posted in Audio • Friday, May 3, 2019 @ 12:00 AM
Theme: Distinguished Alumni Award Recipients 2018
CMU's Distinguished Alumni Awards celebrate alumni who embody CMU's values and mission of service, leadership, and reconciliation in church and society. The awards are presented to alumni from CMU and its founding colleges. This month on Sunday@CMU, we are rebroadcasting the speeches given by this year's award recipients.
Posted in Video • Wednesday, May 1, 2019 @ 3:36 PM
Posted in Video • Wednesday, May 1, 2019 @ 3:16 PM
Print This Article