Stories
Pilgrimage to Dirk Willems' Pond: Student visits famed site during Reading Week abroad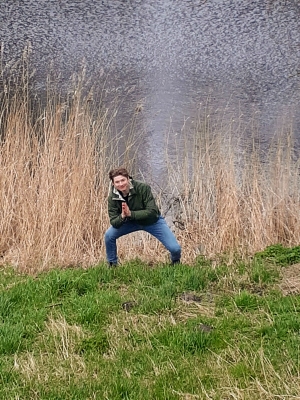 "Therefore, since we are surrounded by such a great cloud of witnesses, let us throw off every encumbrance, and the sin that so easily entangles, and let us run with endurance the race set out for us." Hebrews 12:1
Nathan Dueck is finishing his third year of a four-year interdisciplinary BA, majoring in History of Western Thought. Nathan hopes to attend law school after graduation next year. This February, Nathan spent his Reading Week exploring the Netherlands and UK by bicycle, with his friend and roommate Noah Curle. Dueck says for him, the highlight of the week was a day-pilgrimage to Dirk Willems' Pond, near Utrecht:
"I've always wanted to backpack through Europe, like my parents did in their twenties. As luck would have it, Noah is taking a gap year, so we went together. The pond was a special site for me that I knew I wanted to include. As a young child, I remember my father reading me a Trailblazers book about Dirk Willems; his embodiment of the Christian appeal to "love thy enemies" has been foundational to my understanding of Mennonite identity ever since."
With one week to conquer the map, Dueck and Curle journeyed from London to Cambridge and back (UK), then to Amsterdam (Netherlands) and Ghent (Belgium), and back to London again. Once in Amsterdam, the pair rode by train to Utrecht where they rented bikes for the trip out to the Pond. Like all adventures, it turned out to be just a shade more complicated than foreseen:
"The journey was longer than we expected, partly due to some miscalculation and an overconfident sense of direction on my part, but the ride was very impactful. Much of our way ran through Dutch farming villages and countryside, and we were impressed by how well maintained everything was. The long journey to the pond was itself an important part of the experience—not only for the chance to explore the place and landscape from which Willems came, but because of the effort it took to make our way through it. The 'pilgrimage' allowed me affirm my cultural and ethnic tradition in an explicit, physical way."
"We arrived in Asperen, a village in the southern province of Gederland, late that afternoon. Once there, locals were happy to point us in the direction of the pond. One woman said she didn't know its exact location, but that her son had learned about it in school; she invited me into her house so he could tell me while Noah watched our bikes. Eventually, we got there.
"The "uitkijpunt" or 'lookout point' of the "Dirk Willemsz Pad" (Dirk Willems Path) overlooks the pond, which is surrounded by forest on one-side and a grassy rise on the other. Realistically it's not much to look at and, as expected, arriving was a bit anti-climactic—but it was still a moving experience. All in all, that day was a memorable episode that, I think, has already helped to strengthen my identity as a Mennonite."
I caught up with Dueck outside the library in Marpeck Commons in early March, following the unveiling of CMU's newest addition to "special collections": a 1685 manuscript edition, illustrated and in the original early-modern Dutch, of the Martyrs Mirror. It chronicles the story of Dirk Willems, along with many other tales of the Mennonite martyrs who continue to witness to students like Dueck, over three-hundred years later.
Print This Article