Pianist wins 2023 Verna Mae Janzen Music Competition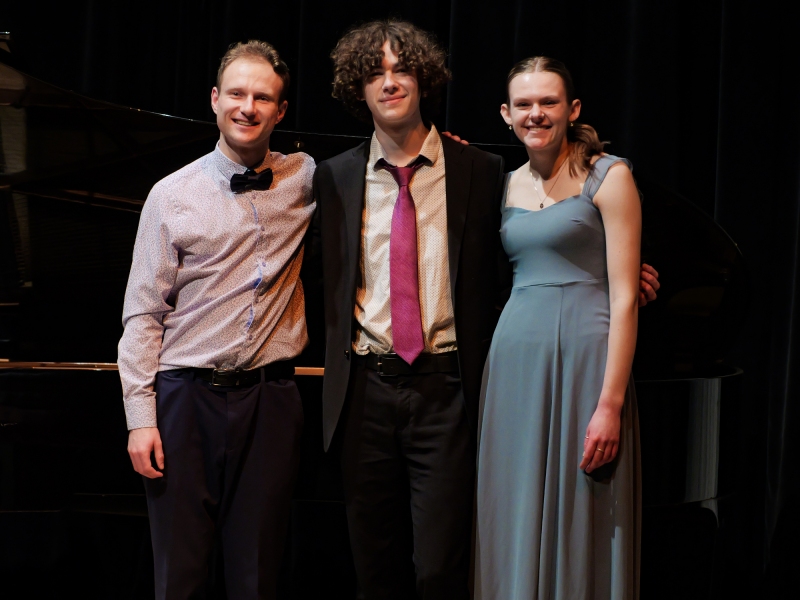 A pianist from Inglis, Manitoba is the winner of the 18th annual Verna Mae Janzen Music Competition at Canadian Mennonite University (CMU).
Georg Neuhofer's performance in the finals, held on Thursday, March 23 in CMU's Laudamus Auditorium, earned him first place and the $700 prize that comes with it.
"I felt that my playing that evening was a culmination of many hard hours of practicing over the past four years," he says. "For the most part, I was simply excited to share my pieces with everyone and felt very fortunate to be sharing the stage with my equally talented friends and colleagues."
Neuhofer has been playing the piano for more than 16 years. He is a fourth-year CMU student, working towards a Bachelor of Music in education. This was his third year participating in the Verna Mae Janzen Music Competition finals, placing second in 2021 and performing in 2022. He is currently a Manitoba Opera Student Ambassador and was selected as one of Virtuosi's 2022/23 Young Artists.
William Harder, violin, finished second and received the $500 prize. Carrie Schulz, soprano, finished third and received the $300 prize. Emily Lange, soprano, Anne Grace Kelm, piano, Hudson Thiessen, piano, and Magnolia Hollander, soprano, were also finalists in the competition.
"I appreciate the Verna Mae Janzen competition because it has always given me a goal at the end of the year to work towards and is an opportunity for musicians at CMU to share their hard work over the course of the year with the community. However, the best part of Verna Mae is seeing how supportive the audience always is—their loud cheering shows just how much they want everyone to do well!" Neuhofer says.
Serving as adjudicators for the finals were Lida Szkwarek, a leading soprano who performs with prominent opera companies and symphonies across Canada and teaches voice at the Manitoba Conservatory of Music & Arts and from her private studio; and Jenny Regehr, an esteemed pianist known for her performances and masterclasses, who spent many years as the harpsichordist and pianist of the Manitoba Chamber Orchestra and a faculty member of the Glenn Gould School at the Royal Conservatory of Music in Toronto.
The judges looked for imagination and complete abandonment in the performances, awarding students who moved beyond all their technique and hard work to be fully present in performing. "We want to thank all the competitors for some amazing, beautiful performances. Thank you so much for your hard work and preparation," Szkwarek said.
This music competition is made possible by the generous donations of Peter Janzen of Deep River, ON, and is named in memory of his wife, Verna Mae, who died of cancer in 1989 at age 53. For Janzen, sponsoring this music competition is a way of contributing to the success of CMU, something he wanted to do because he and Verna met through their interest in choral singing.
"I always dreamed of someday dedicating a memorial to my wife—a wonderful, loving, sensitive, intelligent, and happy companion," Janzen has said. "Through the Verna Mae Janzen Music Competition at CMU, I can keep her memory alive."
Printed from: media.cmu.ca/story-pianist-wins-2023-verna-mae-janzen-music-competition