CMU approaches student wellness with generous hospitality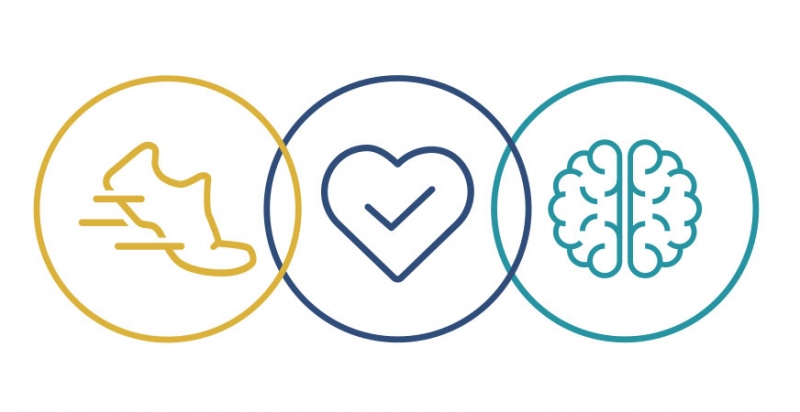 The coronavirus turned students' lives upside down. It completely changed life in the classroom, on the court, and in dorm rooms, significantly impacting students' mental health. But CMU's response to supporting students through challenging times didn't change. "The best solution is a community that cares," says Dean of Student Life Charlie Peronto. Luckily, that is who CMU is at its core.
"To be generously hospitable is about the welcome of students across the mental health and physical health spectrum and saying that we will make our education, we usually use the word accessible, hospitable," Peronto says.
Delmar Epp, Associate Professor of Psychology
At CMU, that means continuing to develop strong relationships. Earlier this year, the student life staff called every single CMU student to check in with them. Delmar Epp, associate professor of psychology, had more one-on-one meetings with students than ever before, thanks to online platforms. At a time when students are constantly experiencing change and uncertainty, they need someone to support and walk alongside them. "They need to know they're in a place where people care about who they are as individuals," Peronto says. Epp adds, "I think this is where we really stood out over this last year, by trying to make ourselves available for people."
CMU also implemented a host of new initiatives to promote student wellness. They developed their recreation programming to include dance, yoga, cycling, and running. An art therapist joined CMU's team of volunteer counsellors for the first time and over 70 student leaders were trained in peer support. Community groups formed as a space for students and faculty to connect around topics and activities outside of the classroom.
"We try to consistently work to not speak about mental health as its own thing," says Peronto. Since mental health is inseparable from other aspects of health, strategies for promoting it need to be holistic and diverse. "We took a multi-faceted approach... and that's the approach we're going to continue to take."
Charlie Peronto, Dean of Student Life
These are all resilience-building activities that fit into the discussion going on in the field of positive psychology right now, says Epp. Psychologists are emphasizing the importance of taking proactive steps even before difficult times hit. "That is... what mental health or psychological health is really all about. It's not trying to get people from some very negative place back to zero. It's trying to get them to plus 10!" Students will carry the wellness skills CMU strives to teach far beyond the walls of the university.
But it wasn't only the staff and faculty looking out for the well-being of the CMU community this year. "We have been the recipients of great generous hospitality from our students," says Peronto. "The outpouring of care from students this year and the consistency of students asking if there is anything they can do to help their peers or us... they cared for our wellness in lots of ways."
Epp and Peronto said students' level of commitment to being at CMU stood out to them this year. There was almost no resistance to the new safety protocols and policies; instead, students were cooperative and careful, asking staff where they could help out. "The students who are drawn to this place have a real depth of care and commitment to their colleagues and the people who they're here with," Peronto says. "I can't rave enough about how great our students are and what a pleasure it is to work with them."
Printed from: media.cmu.ca/story-cmu-approaches-student-wellness-with-generous-hospitality