News Releases
CMU welcomes Dr. Dennis R. Venema as 2019's Scientist in Residence
Trinity Western University professor to speak on evolution and Christian faith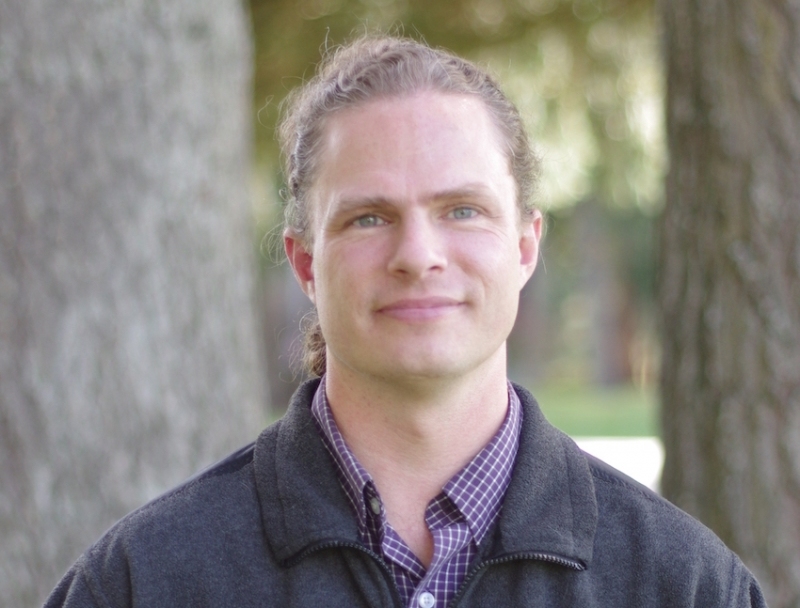 Were Adam and Eve humanity's first parents? Genetics show that our beginning comes from a population much larger than one couple. Can belief in evolution and Christianity mix?
These are some of the key questions Dr. Dennis R. Venema will address as Scientist in Residence at Canadian Mennonite University (CMU) on February 4-6, 2019.
"Evolution can be a scary word for some of us within the evangelical community," says Venema. "I hope that this series of lectures helps students become better informed about the science behind evolution, and better equipped to meaningfully integrate their faith with what modern biology is telling us."
Dr. Venema (PhD, University of British Columbia) is Professor of Biology at Trinity Western University in Langley, BC. He co-wrote Adam and the Genome: Reading Scripture after Genetic Science with theologian Scot McKnight in 2017 and speaks frequently on evolution and Christian faith.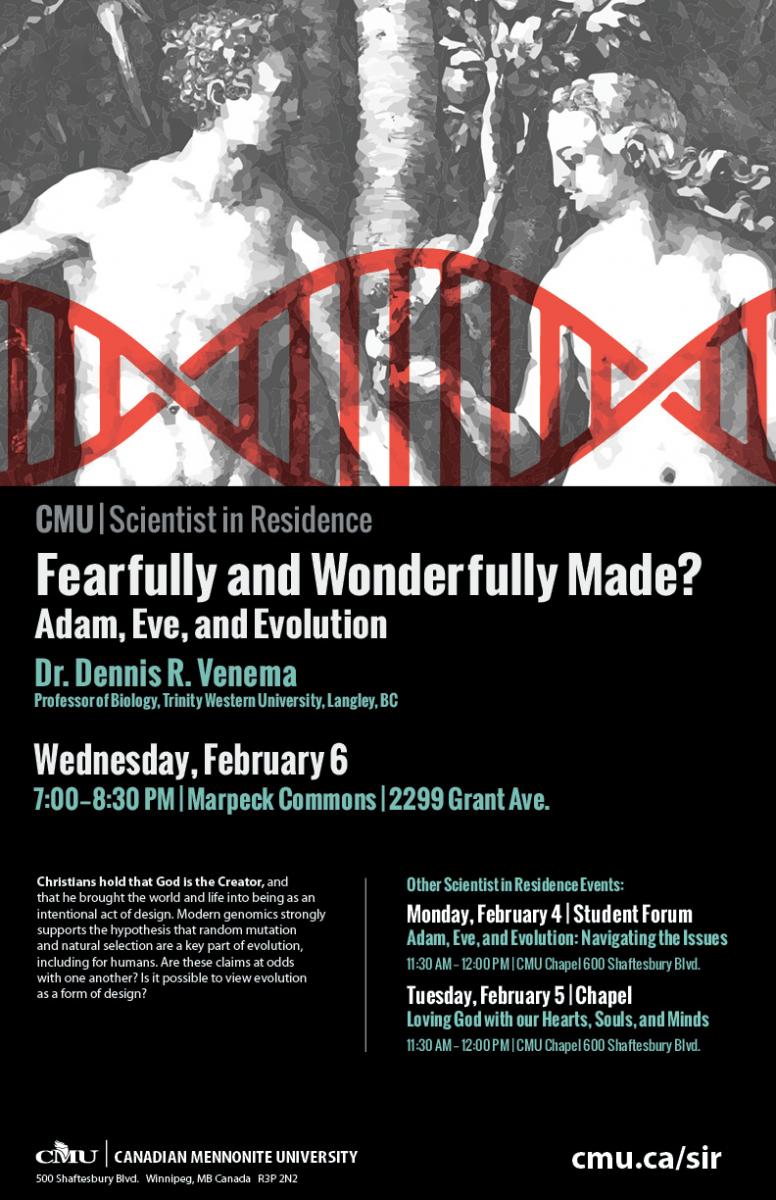 "Dr. Dennis Venema is an accomplished and gifted researcher and writer who is facing, head on, critical issues in both biology and theology," says Justin Neufeld, Instructor of Philosophy at CMU and this year's convenor of the Scientist in Residence events.
Venema will speak at the following events:
A student forum titled, "Adam, Eve, and Evolution: Navigating the Issues," on Monday, February 4 from 11:30 AM to 12:00 PM in the CMU Chapel (600 Shaftesbury Blvd.).
A chapel titled, "Loving God with our Hearts, Souls, and Minds," on Tuesday, February 5 from 11:30 AM to 12:00 PM in the CMU Chapel.
A lecture titled, "Fearfully and Wonderfully Made? Adam, Eve, and Evolution," on Wednesday, February 6 at 7:00 PM in Marpeck Commons (2299 Grant Ave.). This lecture will be streamed live online at cmu.ca/sir.
For his work as a teacher, Venema received the College Biology Teaching Award from the National Association of Biology Teachers in 2008. He was also a Fellow of Biology for the BioLogos Foundation from 2011 to 2018.
"I'm thrilled to be invited to be the Scientist in Residence at CMU for 2019. I think it's a wonderful opportunity for students, and I am honoured to join a prestigious group of prior participants," he says. "I hope that these conversations can help students along the path to embracing both God's word and God's world as a source of reliable revelation to us."
All of the Scientist in Residence events are free and open to the public. For more information, visit cmu.ca/sir.
About CMU
A Christian university in the Anabaptist tradition, CMU's Shaftesbury campus offers undergraduate degrees in arts, business, humanities, music, sciences, and social sciences, and graduate degrees in Theology and Ministry, Business Administration, Peacebuilding and Collaborative Development. CMU has 1,600 students, including those enrolled in degree programs at its Shaftesbury Campus and Menno Simons College Campus. CMU is a member of Universities Canada.
For information about CMU, visit cmu.ca.
For additional information, please contact:
Kevin Kilbrei, Director of Communications & Marketing
kkilbrei@cmu.ca; 204-487-3300 ext. 621
Canadian Mennonite University
500 Shaftesbury Blvd., Winnipeg, MB R3P 2N2
Print This Article