CMU to celebrate publication of Philippians with book launch event
Commentary by Gordon Zerbe emphasizes citizenship, partnership, and joy
Canadian Mennonite University invites the public to a book launch celebrating the release of Philippians, a new Bible commentary by New Testament scholar Dr. Gordon Zerbe.
The event takes place Thursday, November 24 at 7:00 PM in Marpeck Commons (2299 Grant Ave.). In addition to hearing from Zerbe, who will lead attendees on a "virtual tour through Paul's Philippi," people will have the one-time opportunity to purchase copies of the book at a 30 per cent discount at CommonWord Bookstore and Resource Centre.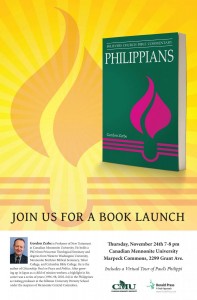 Admission to the book launch is free, and all are welcome to attend.
Published by Herald Press, Philippians is the 31st volume in the Believers Church Bible Commentary series.
In the commentary, Zerbe challenges readers to allow Paul's prison letter to interpret their own lives—not by extracting lessons out of historical and cultural context, but by imagining themselves in the ancient Roman world.
"Paul's wisdom in the letter can mirror back to us some of our own circumstances and questions," says Zerbe, who is Vice President Academic at CMU. "Once we live into the world of that text, we can look back at ourselves in a new way."
He adds that to understand Paul and his beloved and beleaguered congregation in Philippi, we must learn to see him as a leader transformed by grace and passionate about enlivening patriotic loyalty to Jesus alone.
In the commentary, Zerbe emphasizes four main themes: citizenship, partnership, high-low inversion, and joy.
"What it means to fully realize the vision of partnership and mutuality that Paul articulated, and what it means to faithfully practice the way of being in solidarity with the lowly, are imperatives as relevant today as they were two thousand years ago," Zerbe says.
He adds that he accepted the invitation to write the commentary because he has been absorbed in work on Paul and his letters ever since the days of his doctoral studies at Princeton Theological Seminary.
"This was a great opportunity to deepen my understanding of one letter," Zerbe says. "In addition, I was already convinced that some new thinking about Paul and Philippians could make for an exciting new venture in a commentary."
The Believers Church Bible Commentary series is designed to be accessible to lay readers, useful in preaching and pastoral care, helpful for Bible study groups and Sunday school teachers, and academically sound. The series also carries an underlying Anabaptist reading of Scripture.
The volumes are a cooperative project of Brethren in Christ Church, Brethren Church, Church of the Brethren, Mennonite Brethren Church, Mennonite Church Canada, and Mennonite Church USA.
In addition to a PhD from Princeton, Zerbe holds degrees from Western Washington University, Mennonite Brethren Biblical Seminary, Tabor College, and Columbia Bible College. He is the author of Citizenship: Paul on Peace and Politics.
After growing up in Japan as a child of mission workers, a highlight in his career was a series of years (1996–98, 2002–04) in the Philippines as visiting professor at the Silliman University Divinity School under the auspices of Mennonite Central Committee.
About CMU
A Christian university in the Anabaptist tradition, CMU's Shaftesbury campus offers undergraduate degrees in arts, business, humanities, music, sciences, and social sciences, as well as graduate degrees in theology, ministry, peacebuilding and collaborative development, and an MBA. CMU has over 800 full-time equivalent students, including those enrolled in degree programs at the Shaftesbury and Menno Simons College campuses and in its Outtatown certificate program.
For information about CMU visit www.cmu.ca.
For additional information, please contact:
Kevin Kilbrei, Director of Communications & Marketing
kkilbrei@cmu.ca; 204.487.3300 Ext. 621
Canadian Mennonite University
500 Shaftesbury Blvd., Winnipeg, MB R3P 2N2
Printed from: media.cmu.ca/philippianbooklaunch