CMU's Neil Weisensel receives $50,000 SSHRCC grant for continued development of Louis Riel opera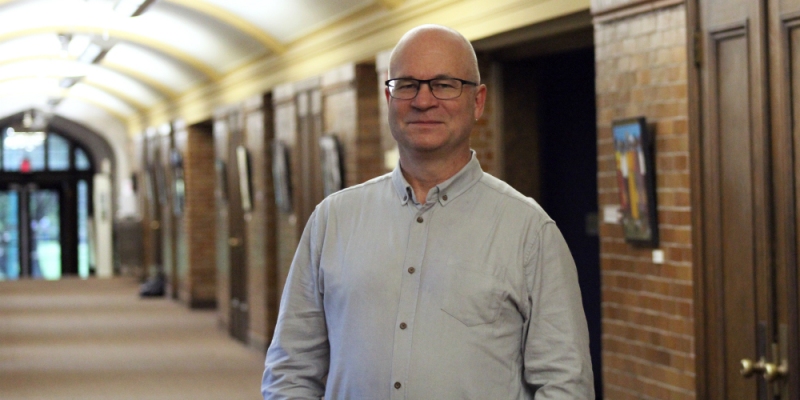 Funding will help ensure every possible measure is taken to make Li Keur, Riel's Heart of the North a reconciliation project, curtain to curtain.
Grant writing is notoriously difficult, time-consuming, meticulous work, yielding unpredictable return on investment. Yet it remains an essential and unavoidable demand of research and creative careers. For Neil Weisensel, adjunct Professor of Music at CMU and composer of Li Keur, Riel's Heart of the North which débuted last year, the effort is paying off. He recently received $50,000 in the form of a federal grant from the Social Sciences and Humanities Research Council of Canada (SSHRCC) for further work on a thriving production.
"This grant is specifically for translating our script into Indigenous languages, most prominently Michif and Saulteaux. Dr Suzanne Steele, our librettist, has done incredible work with this script and we're very excited about how this funding will help us extend that work. We now have money for translators, and funds to hire some CMU students to help us complete a pronunciation database that we've been building. The database pairs translated phrases with audio recordings of their pronunciation by our Indigenous translators, partly so that singers can learn their parts correctly, and partly so that I, as the composer, can really hear and understand what these languages sound like—their cadences, their vowel shapes—in order to best set them to music. That particular aspect of the project has been very technically complex and logistically demanding, involving a lot of time and cooperation."
In addition to scoring Steele's libretto and managing the associated database, Weisensel says this grant will enable the team to accomplish several essential steps in assembling the remainder of the opera's production cohort.
"This grant also means we now have money to scout, assemble, and rehearse a Métis chorus, as well as fund a director for that ensemble. There are Métis people singing in all kinds of choirs but, currently, no stand-alone chorus of mostly Métis people. We would like to create that chorus. Further, we'll have some money to hire an Indigenous cultural consultant to guide us through the remainder of production—somebody who knows the protocol and etiquette of addressing elders, transportation, lodging, gifts, all those important things. It's absolutely crucial for us to make sure we're going about everything in the correct way here."
Li Keur, Riel's Heart of the North is based on the life and legacy of Louis Riel, who led two resistances against John A. MacDonald's inaugural Canadian government. In 1885, Riel was hanged for treason, and for years history cast him as a villain, a traitor to his country. Today however, he is recognized as the Father of Manitoba and a hero of the Métis nation. Li Keur, Riel's Heart of the North is Weisensel and Steele's tribute to this long-misrepresented figure of Canadian history—one which he hopes will contribute meaningfully to settler-indigenous reconciliation in this country. He says grant funding like the SSHRCC, and last 's Canada Council 'New Chapter' Grant, offered to commemorate Canada 150, contribute both financially and politically to the reconciliation power of the production.
Grants of this size, at this level, are often highly competitive. Weisensel says the CMU Research Office was invaluable in helping to prepare a winning application. Weisensel hopes to secure funding from other organizations like the Winnipeg Foundation and Assiniboine Credit Union, both of which offer notable community arts grants. Weisensel is also waiting to hear about one more Canada Council Grant, news of which should come later this month.
About CMU
A Christian university in the Anabaptist tradition, CMU's Shaftesbury Campus offers undergraduate degrees in arts, business, humanities, music, sciences, and social sciences, and graduate degrees in Theology and Ministry, Business Administration, Peacebuilding and Collaborative Development. CMU has 1,600 students, including those enrolled in degree programs at its Shaftesbury Campus and Menno Simons College Campus. CMU is a member of Universities Canada.
For information about CMU, visit cmu.ca.
Kevin Kilbrei, Director of Communications & Marketing
kkilbrei@cmu.ca; 204.487.3300 ext. 621
Canadian Mennonite University
500 Shaftesbury Blvd., Winnipeg, MB R3P 2N2
Printed from: media.cmu.ca/nr-weisenselsshrccgrant