News Releases
A message from the president: Plans for the 2022 Winter Term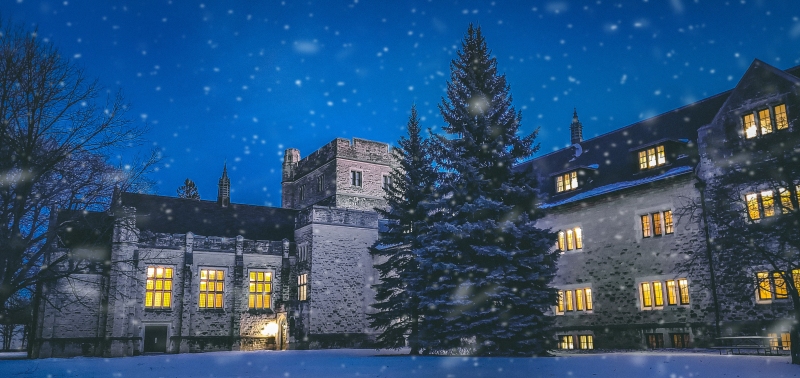 Dear CMU Students, Staff, and Faculty,
Canadian Mennonite University plans to continue in-person education on the Shaftesbury Campus in the 2022 Winter Term in ways that cultivate and sustain high levels of safety, health, and well-being for students, staff, and faculty.
Given the extremely high transmissibility rates of the COVID-19 Omicron variant, CMU will begin the 2022 Winter Term with two weeks of online teaching and will resume in-person classes on Monday, January 24.
CMU has introduced increased health and safety measures for the 2022 Winter Term to the make the January 24 in-person return possible. These measures will be in effect throughout the term until further notice.
New Protocols for the 2022 Winter Term
All students, staff, and faculty are required to receive a third COVID-19 vaccination dose ASAP. Currently, third doses are becoming widely accessible throughout Canada. While six months is still recommended between second and third doses in Manitoba, it is not required and is subject to ongoing change. Look to pharmacies or provincial vaccine supersites to book an appointment ASAP.
CMU will host an on-campus, COVID-19 third dose vaccine clinic on Monday January 10. If you have been unable to get a third dose in the community by that time, you will be able to access a third dose on campus. Sign up for this pop-up vaccine clinic will begin on January 5.
Masks: three-ply surgical, N95, KN95, or a doubled mask (cloth over a two-ply mask) are required for all students, staff, and faculty when returning to campus. Wearing only a cloth or a two-ply mask will no longer be sufficient. CMU will supply two-ply and tie-up cloth masks while supplies last. Washable KN95 masks are available for free by the Province of Manitoba at various pickup locations.
All students, staff, and faculty are required to participate in CMU's rapid testing program twice per week once back on campus.
Ongoing On-Campus Protocols
Perform a COVID-19 self-assessment before coming to campus; stay home if you are feeling unwell. Students will receive appropriate accommodation for classes when they or their dependent are experiencing COVID-19 illness and symptoms.
Daytime access to all CMU buildings, is limited to students, staff, and faculty unless arranged and monitored by CMU Administration. The only exceptions are CommonWord and folio café which will follow provincial orders.
Practice physical distancing wherever possible.
Wash or sanitize your hands when entering a building or a classroom.
Contracting COVID-19 is likely for many of us in the coming wave. While this can be distressing, do not be ashamed or embarrassed; it doesn't mean you did anything wrong! Honesty and transparency are key to maintaining the health of our community. Please reach out to Charlie Peronto at cperonto

:

@

:

cmu.ca or Julene Sawatzky at jusawatzky

:

@

:

cmu.ca if you have any questions, are symptomatic, or have tested positive. CMU is here to support you!
2022 Winter Term: Key Dates
January 4 – CMU reopens, including CommonWord Bookstore and Resource Centre
January 5 – Next communication to all staff and students with any further updates and COVID-19 third dose vaccine clinic sign-up
January 6 – CMU residences reopen
January 10 – First day of Winter Term classes (online); On-campus COVID-19 third dose vaccine clinic; folio café reopens
January 24 – First day of in-person classes
Christmas Holiday Encouragement
I have been deeply heartened by the exemplary behaviour and commitment to the health, safety, and well-being of all students, staff, and faculty during the 2021 Fall Term. Thank you for honouring and cherishing the gift of learning well, together. God's joy and peace be with you as you rest and play this holiday season.
Merry Christmas!
Cheryl Pauls, Dr.
President
Print This Article