Announcing the 2020 John and Margaret Friesen Lectures: What if Mennonites Had Never Left the Netherlands?
Featuring Dr. Piet Visser, Professor Emeritus of Vrije Universiteit, Amsterdam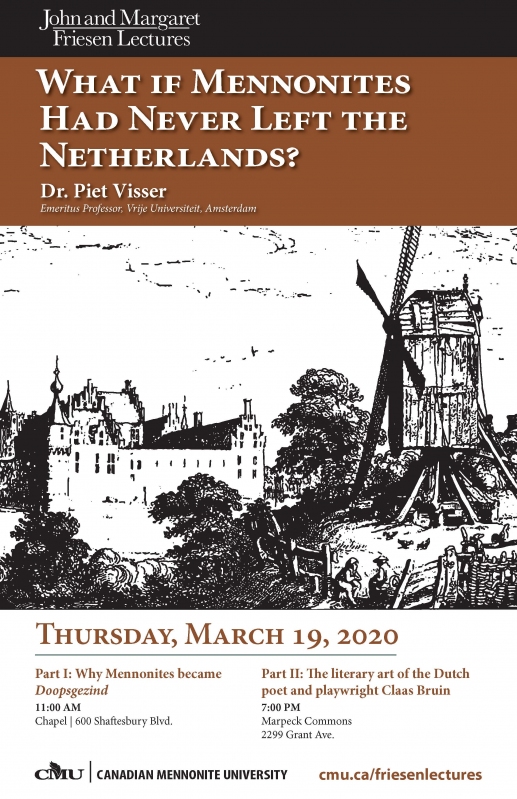 What if the 16th-century Dutch and North-German ancestors of so many North American Mennonites had decided not to flee their homes? What if they had not scattered, and not been variously shaped by atrocities like those of tsarist Russian tyranny, communist revolution, or Nazi war? What would Mennonites be like today if they had never left the Netherlands?
These central questions will form the foundation of CMU's 2020 John and Margaret Friesen Lectures, offered by Dr. Piet Visser, Emeritus Professor of Vrije Universiteit, Amsterdam. The two lectures will take place on Thursday, March 19—Part I will begin at 11:00 AM in the chapel at 600 Shaftesbury Blvd. (south side of Grant Ave.), and Part II will begin at 7:00 PM in Marpeck Commons, 2299 Grant Ave.
"During the times of persecution not all hunted heretics fled their homelands: many survived in the Low Countries, at the cost of some 2,000 casualties. Thus, there are two parallel but divergent stories of Mennonitism originating from this shared beginning—like two twins that have grown up separately," writes Visser.
"Comparison of the history of Dutch Mennonitism set alongside the history of those (Dutch) Mennonites who moved away makes it possible to consider the simultaneous developments and trends among these groups. Internal and external characteristics of these related groups are the results of the differing patterns of societal assimilation and segregation that occurred within their respective geographical, socio-political, and cultural contexts."
Part I of this year's lectures will explore "Why Mennonites became Doopsgezind: The dynamics of the Dutch branch of the Dutch-Prussian-Russian Mennonite Tradition (1535–present)." This lecture concentrates on key turning points in the Dutch Mennonite story that brought change to the community's theology and ethics. It highlights the way external social impulses created the conditions for change, reshaping Dutch Mennonites both in thought and practise.
Part II, a case-study in the morning's themes, will examine work by Claas Bruin, a 16th century Dutch Mennonite poet and playwright. The lecture will outline what Visser calls Bruin's "Doopsgezind contribution" to Dutch culture. Though little known today, Bruin achieved significant fame during his time; and while Bruin was "well attuned to the demands and niches of the early modern Dutch cultural markets," Visser writes that he "nonetheless remained rooted in his Mennonite milieu."
Visser was born to a Doopsgezind farming family in Friesland, Netherlands, 1949. He specialized in Golden Age Dutch literature at the University of Amsterdam, subsequently working as curator of the university's Church History Collections. In 1996 he was appointed Chief Curator of the university library. Meanwhile, Visser taught part-time for 10 years in the Faculty of Arts as special professor in The History of Dutch Books and Manuscripts (1450–1800). From 2002 to 2014 he served as full professor of The History of Dutch 'Doperdom' at the Mennonite Seminary and Faculty of Religion and Theology at Vrije Universiteit, Amsterdam. He has written, co-authored, and edited numerous scholarly publications.
The John and Margaret Friesen Lectures in Anabaptist/Mennonite Studies are co-sponsored by CMU, the Mennonite Heritage Centre, and the Centre for Mennonite Brethren Studies. For more information, visit cmu.ca/friesenlectures.
About CMU
A Christian university in the Anabaptist tradition, CMU's Shaftesbury campus offers undergraduate degrees in arts, business, humanities, music, sciences, and social sciences, and graduate degrees in Theology and Ministry, Business Administration, Peacebuilding and Collaborative Development. CMU has 1,600 students, including those enrolled in degree programs at its Shaftesbury Campus and Menno Simons College Campus. CMU is a member of Universities Canada.
For information about CMU, visit cmu.ca.
Kevin Kilbrei, Director of Communications & Marketing
kkilbrei@cmu.ca; 204.487.3300 ext. 621
Canadian Mennonite University
500 Shaftesbury Blvd., Winnipeg, MB R3P 2N2
Printed from: media.cmu.ca/nr-2020friesenlectures