News Releases
CMU to honour Terry LeBlanc and Bev LeBlanc with the 2022 PAX Award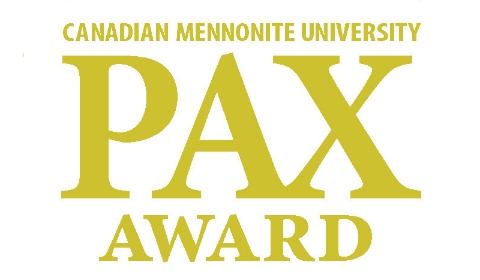 Theologians and community organizers Terry LeBlanc and Bev LeBlanc will be honored with the 2022 Canadian Mennonite University (CMU) PAX Award.
CMU President Cheryl Pauls will present the award to the LeBlancs on April 30 at CMU's 2022 graduation ceremony, where Terry LeBlanc will also give the commencement address.
Pauls says, "the CMU PAX Award is presented annually in honour of a lifetime of exemplary service, leadership, and reconciliation in church and society."
The LeBlancs are in their 50th year of marriage and, in those years, have committed themselves to constructing intercultural relationships through community education and development practices. In the late 1990s, they, along with a larger group, collaboratively created and launched the North American Institute for Indigenous Theological Studies, now known only as NAIITS: An Indigenous Learning Community.
Terry LeBlanc, a Mi'kmaq-Acadian, is the founding Chair and current Director of NAIITS. He holds an interdisciplinary PhD from Asbury Theological Seminary and is an educator in theology and anthropology.
Bev LeBlanc works in various modes to support the development of theological capacities in the Indigenous community. She has co-founded both rural and urban missions and ministries dedicated to the reclamation and healing of Indigenous identity.
"Indigenous life and engagement have been our life's work," says Terry LeBlanc. He says everything from leading camp programs for youth to NAIITS has been to support their community.
NAIITS was born from a group of like-minded people from across the globe who wanted to explore what it meant to be both authentically Christian and authentically Indigenous. Terry LeBlanc says a common misconception people have is that "[one] can't be culturally Indigenous and a follower of Christ. So those who felt that was not an appropriate position began to explore what it might look like to try and address that in a meaningful and helpful way."
NAIITS was then established and underwent a discernment and formation period. In December 2001, NAIITS held its first Theological and Missiological Symposium on CMU's Shaftesbury campus.
According to the NAIITS website, the institute's "work centers on Indigenous engagement with persons, work, life, teaching, death, and resurrection of Jesus rooted in Indigenous cultures, values, and histories. Whether in the development of new theologies or in our forums for dialogue and teaching, it is this understanding that we believe still defines our path towards wholeness."
NAIITS is the first Indigenous designed, developed, delivered, and governed theological educational institution independently accredited by The Association of Theological Schools (ATS). Today NAIITS offers a PhD program and four masters programs.
"Through the work of NAIITS and other projects, Terry and Bev have persisted for decades in cultivating the gifts of Indigenous theologians and ministry leaders," says Pauls.
Pauls says, "In generating an expansive field of Indigenous theological scholarship, Terry and Bev are vital to the reckoning and transformation happening in the church today across many global and denominational bodies."
Terry LeBlanc reflects on his partnership with Bev in his lifetime work, saying that without her support none of his many ventures would exist. "She may not have written the papers or given the talks, but she has been equally contributory," says Terry.
"I am tied at the hip to somebody I have been with for 50 years... I would never have imagined doing this [work] without Bev's full engagement, counsel, and advice," says Terry LeBlanc.
In recognizing both Terry LeBlanc and Bev LeBlanc, CMU commits itself to learn from their work and life journey. Pauls says, "CMU is honoured, challenged, and blessed as Terry and Bev receive the 2022 PAX Award."
Print This Article