News Releases
CMU announces 2018 Leadership Scholarship winners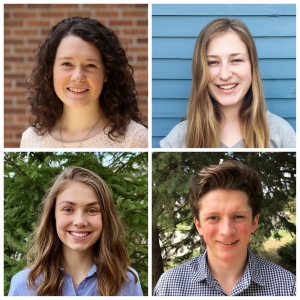 Canadian Mennonite University (CMU) is pleased to name the recipients of this year's Leadership Scholarships: Katherine Ulrich of Scott, SK (homeschool); Johanna Klassen of Winnipeg, MB (Westgate Mennonite Collegiate); Annika Loeppky of Selkirk, MB (Lord Selkirk Regional Comprehensive Secondary School); and Levi Klassen of Calgary, AB (Calgary Christian School).
Four Leadership Scholarships are offered to students who demonstrate significant leadership ability, academic excellence, personal character, service, and vision. Worth up to $14,000 each over four years, the Leadership Scholarships are awarded annually to recent high school graduates.
"Every year CMU receives many outstanding submissions for the Leadership Scholarship award," says Lois Nickel, Director of Enrolment Services. "These students bring their gifts of leadership to our campus each fall and we are privileged to watch them grow into mature young adults who give back to their communities, churches, and our university."
Students applying for the Leadership Scholarships are required to provide a resumé of their leadership involvement, along with two letters of recommendation, and an essay reflecting on a leader who inspires them.
"I know no matter where I go, what I do, and who I lead, I will always strive to be grounded in my identity, motivated by love and leading by example," says Katherine Ulrich, whose inspiration comes from Polish philosopher, playwright, theologian professor, and activist Karl Wojtyla who became better know as Pope John Paul II in 1978.
Ulrich hopes to emulate Pope John Paul II in the way he served with a strong love for others and a heart of hope for peace and unity.
With her strong calling towards pastoral leadership, Ulrich's hope is for her leadership to be challenged and strengthened while at CMU, for growth in effectiveness or a focus in direction.
Johanna Klassen believes that true leaders are dedicated to the greater good, with an enthusiasm for not only personal but shared success. Nellie McClung personifies this dedication for Klassen and is her inspiration. McClung pursued Canadian women's right to vote in 1916 and became one of the country's first female leaders.
For Klassen, McClung paved the way for women after her and took great risks to do so.
"McClung showed that to be a leader, one must be much more than a figurehead. One must be optimistic, determined, and passionate," Klassen says.
Klassen expects her time at CMU to help her understand herself better and teach her how to be an effective leader.
Annika Loeppky, who considers herself fortunate for being surrounded by many role models, draws inspiration from Deborah Vitt, Minister at Selkirk United Church.
Loeppky says of Vitt, "Once you have met her, it is apparent that she accepts everyone for who they are... and can provide a comforting space and listening ear when someone is vulnerable."
As Loeppky joins the CMU community, she aspires to have patience, compassion, and devotion, as well as a desire to give to others while developing new leadership qualities that she can implement into her everyday life.
Levi Klassen, who is looking forward to a career in medicine, recently visited a genetics laboratory at the invitation of a Swiss post-doctoral researcher. Klassen admired the researcher's "amazing capacity to think hopefully about the future, but also recognize potential hazards."
"I want to learn to think like that," Klassen says. "I want to think in a way that enables me to be a visionary in the field and shape the future of medicine and biological research."
As Klassen advances in the next stages of his life at CMU and beyond, he hopes to improve his leadership skills by challenging himself to expand the ways that he thinks about the world and by having the courage to push boundaries.
About CMU
A Christian university in the Anabaptist tradition, CMU's Shaftesbury campus offers undergraduate degrees in arts, business, humanities, music, sciences, and social sciences, and graduate degrees in Theology and Ministry. CMU has over 1,600 students, including those enrolled in degree programs at its Shaftesbury Campus and Menno Simons College Campus. CMU is a member of Universities Canada.
For information about CMU, visit: cmu.ca
For additional information, please contact:
Kevin Kilbrei, Director of Communications & Marketing
kkilbrei@cmu.ca; 204-487-3300 Ext. 621
Canadian Mennonite University
500 Shaftesbury Blvd., Winnipeg, MB R3P 2N2
Print This Article