Stories
CMU students, faculty, and staff rally for climate justice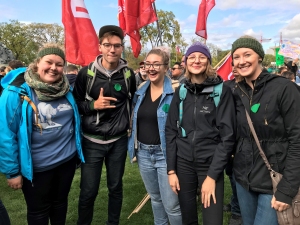 A multitude of CMU students, faculty, and staff took to the streets with over 12,000 people to strike for the climate on Friday, September 27.
The rally was one of thousands happening around the world as part of the Global Climate Strike, a youth-led movement protesting the climate crisis and advocating for environmental justice.
CMU students and alumni led bike jams and bus groups to the Manitoba Legislature, where motivational speakers and musicians addressed the masses before they marched on the streets of downtown Winnipeg, carrying signs reading, "There is no planet B" and "Respect existence or expect resistance."
CMU "formally invited faculty awareness of this event, invited them to work with their classes as appropriate in support of those who want to participate in the strike," said Vice President External, Terry Schellenberg.
Some professors cancelled their classes, while some did not, but made allowances for student absences. Others, like Wendy Kroeker, Assistant Professor of Peace and Conflict Transformation Studies (PACTS), made participation in the strike a mandatory assignment. Students in Kroeker's Models of Peace and Conflict Transformation class read about climate change and made posters, which they presented in class and then took to the strike.
Matt Parkinson, a third-year PACTS student, is one of the students in Kroeker's class. His sign declared, "Together we can be the difference," and was so large that it rose above the crowd and could easily be seen amongst the masses of signs. He and his friends walked through the crowds asking everyone to sign it, and he is hoping to send it to Ottawa.
"'Together we can be the difference' is the idea that there's enough division already, it's time to start bringing us back together," he says. "I chose the colours based on our four political parties, so you see there's blue, there's orange, red, green signatures all over, which means whoever gets in [to government], you guys have to work together. I think it's time for something to change, it's time to see some difference start to happen in the world."
CMU also cancelled Friday chapel and encouraged students to attend several inter-faith prayer services taking place beforehand. Hundreds of people of all religions, including many CMUers, gathered at Broadway Disciples United Church and All Saints' Anglican Church close to the rally grounds to unite in prayers of lament and hope for the earth.
"It's an issue of faith because it's one of our core beliefs that creation was made by God and God gave it to us as a gift," said third-year student Natasha Neustaedter Barg at the strike. "To be here and to be destroying God's gift is not cool! So we're here to make a difference for good."
Print This Article