Faculty: In Their Own Words - Dr. Matthew Pauls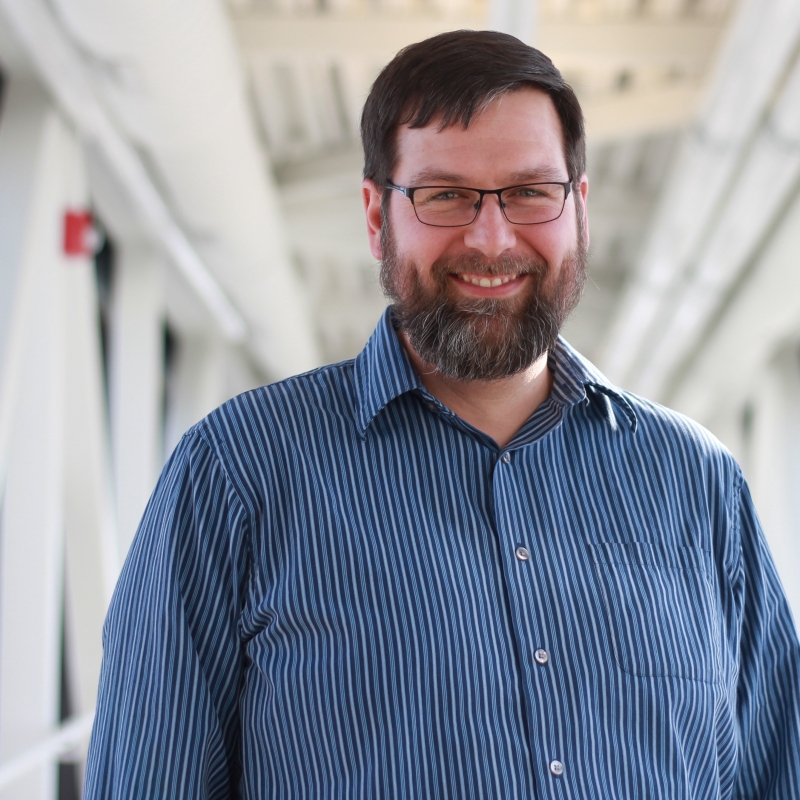 Dr. Matthew Pauls, Assistant Professor of Music, has taught at CMU since 2015.
What do you love about your work here?
I wear a few different hats, so I see students in different kinds of places: one on one in the voice studio, in a classroom, and then in men's chorus. They each have a very different flavour and I enjoy the variety. I love that because of the size of the institution, you get a chance to get to know students better. In a place like the voice studio, where I don't just teach students for one semester, I get to see them grow over a longer period of time and that's very rewarding.
What are you teaching right now that you're most excited about?
Right now, some of my voice students have made so much progress in the last little while and that's very exciting to see. But this year the men's chorus is reading music faster and picking it up and so we have a lot more time to work on the nitty gritty details and polish things more, so that's pretty exciting too.
What are you researching and writing?
My research as a performance faculty member is slightly different. I'm getting ready to do a masterclass at the University of Manitoba, focusing on the topic for my doctoral research, which was Argentine art song. I want to put together some recital programs and go out and do some auditions. Last year was a very busy year; it seemed to be the year of the requiem. I sang a Russian requiem with the Winnipeg Singers, I did the Fauré Requiem with the Winnipeg Symphony Orchestra, I did the Fauré Requiem again and the Duruflé Requiem with Saskatoon Chamber Singers, and I did the Brahms Requiem with Neil Weisensel and his SummerChör.
Where or how do students give you hope?
I see it in their passion. Each generation has these big problems that they face, and the first thing that comes to mind for most people now is climate change and how we're reacting to that. The younger generation that's coming up, they're so creative and they've got so much energy to think about alternatives. So their passion and their open-mindedness, that's where I see a lot of hope in my students.
What do you most long for in your work?
I hope that I will be able to spark an intense curiosity in my students and inspire them to learn for the sake of learning. It's a lot easier to work hard and give it your all when you are truly interested in the subjects that you are studying. If I can play a part in helping them discover their own desire to improve their singing abilities, or expand their knowledge of music, or whatever other topic we are discussing at the moment, then I have achieved my goal.
What are you reading for enjoyment?
Right now, I am reading a biography of Glenn Gould, Glenn Gould: The Ecstasy and Tragedy of Genius. He's a fascinating pianist performer who died in 1982. Although he could have had a very successful career as a concert pianist, Gould didn't really like the concert stage. His pursuit of musical perfection drove him to give up public performance entirely, withdrawing into the recording studio where he could have complete control over the final product. Whether or not you agree with his ideas, he's so thought provoking in the ideas he expresses and his musicality.
What saying or motto inspires you?
I think the one that I'm living with right now is, "It's not the mistakes that you make in life that define you but it's how you recover from them." Nobody's perfect, we all make mistakes, but it's how you move on from them, how you get back up and keep going and then look back and learn from them that shapes who you are.
Printed from: media.cmu.ca/fitow-mp