Stories
CMU Blazers host first Indigenous Peoples Day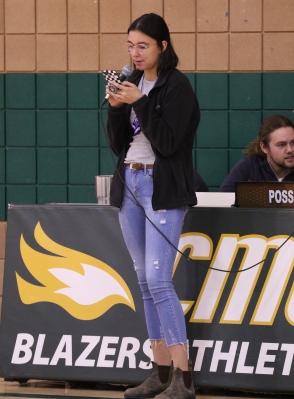 Music by Indigenous artists pumped through the Loewen Athletic Centre at Canadian Mennonite University (CMU) on January 11, as crowds of people packed full the stands for the CMU Blazers' first Indigenous Peoples Day.
CMU president Cheryl Pauls welcomed everyone in English and student athlete Dennita Cameron welcomed everyone in Cree, acknowledging the Indigenous lands upon which they all gathered. People won giveaways of bannock pizza from local Indigenous-run restaurant Feast, while cheering on their basketball and volleyball teams. Between games, renowned local hoop dancer Shanley Spence performed a hoop dance and led the crowd in a round dance.
Six Indigenous athletes play on CMU's basketball and volleyball teams. They were each acknowledged by their name and First Nation, and gifted with a CMU pin. Cam Gayleard, a Métis athlete on the men's volleyball team, was presented with the Tom Longboat Award, a prestigious Canadian award that recognizes Indigenous athletes for excellence in sport and community involvement.
The home team also presented each visiting team with a gift of bison teeth before their games began. "Reciprocity and gift giving is a gesture that's really intrinsic in Indigenous cultures," says Jayme Menzies, head coach of the women's volleyball team.
Menzies is a Métis woman who currently serves as the president of Volleyball Manitoba, founded the Agoojin Volleyball girls club program, worked for the National Inquiry into Missing and Murdered Indigenous Women and Girls, and is head coach of Team Manitoba for the 2020 North American Indigenous Games (NAIG), taking place in Nova Scotia this summer.
She is also the one who initiated the Blazers' Indigenous Peoples Day. As someone who coaches mostly in Indigenous communities, she says ensuring that CMU was a welcoming environment for Indigenous students was essential to her agreeing to coach here. "One idea we had was to have a day that not only makes Indigenous people feel welcome here on campus but also educates people that don't know anything about Indigenous cultures or peoples," she says. "That was one of the things that made me feel confident in coming here, that everyone embraced doing a day like that."
"It was really great, I haven't heard the drum or seen a hoop dancer since a year or two ago," says Tammy Mitchell, a first-year student and athlete on the women's volleyball team, who comes from Misipawistik Cree Nation (Grand Rapids, MB). She hopes CMU does more events like this one in the future.
Cameron, also a first-year student and athlete on the women's volleyball team who comes from Pimicikamak Cree Nation (Cross Lake, MB), agrees. But she adds that even if there is a regular Indigenous Peoples Day, it doesn't mean Indigenous inclusion and acknowledgement should only happen on that day.
Both students, who will also be competing with Menzies in the NAIG this summer, appreciate some of the efforts CMU has made to make Indigenous students feel more welcome. Mitchell likes the Indigenous lounge, located on the second floor of the north side of CMU's campus. The lounge is intended to be a safe and comfortable space for Indigenous students, but also a constant reminder to non-Indigenous people that these students and this culture exist here. "It's not like we're just in textbooks. We're still around," Cameron says.
"Also Jayme being here as well is making it comfortable for Indigenous people," she adds. "I felt really welcome knowing Jayme was here."
Menzies was never able to express her Métis identity when she was in post-secondary education. None of her professors had been to a reserve or even knew if they had met an Indigenous person before. So she's passionate about ensuring that post-secondary educational institutions are more accessible to Indigenous people, especially young women.
She acknowledges that while there is plenty more work that can and should be done at CMU, such as finding a place on campus to smudge, the attitude is right. "Everything I've asked for and suggested since I got here, people have only said yes. It's been really nice that the ideas have been welcomed and put into motion."
Russell Willms, CMU's Director of Athletics, says they're hoping to make Indigenous Peoples Day an annual event at CMU, and are already making plans for next year.
Print This Article