News Releases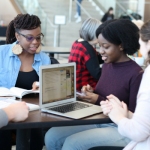 Posted in News Releases • Thursday, May 3, 2018 @ 9:19 AM
Canadian Mennonite University (CMU) has released its tuition rates for the upcoming 2018-19 academic year.
Coming into effect in September, CMU's undergraduate and graduate programs will see a tuition increase of only 1 per cent over 2017-18 rates. This very modest increase is less than the current Consumer Price Index of 1.6 per cent, and is the lowest among Manitoba post-secondary institutions.
Posted in News Releases • Thursday, May 3, 2018 @ 9:06 AM
As MLA for Tuxedo, I have had the privilege of building many great relationships with community organizations, churches, businesses, and schools throughout my constituency.
One of the relationships I value the most is the one I have established with Canadian Mennonite University. CMU is an invaluable post-secondary institution and truly one of the crown jewels of the Tuxedo community.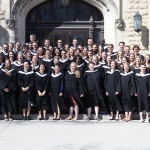 Posted in News Releases • Wednesday, April 25, 2018 @ 11:36 AM
Canadian Mennonite University recognized the accomplishments of 83 graduates this past weekend.
CMU President Dr. Cheryl Pauls conferred 67 undergraduate degrees, 10 graduate degrees, three undergraduate certificates, and three graduate certificates, at the graduation service held at Portage Avenue Church on Saturday, April 21.
Posted in News Releases • Friday, April 13, 2018 @ 10:30 AM
Posted in News Releases • Thursday, March 1, 2018 @ 12:00 AM
A 16-year-old interfaith dialogue between Mennonite and Shi'a Muslim scholars—held in Canada and Iran over the years—will continue at Canadian Mennonite University (CMU) next week.
Shi'a Muslim-Mennonite Christian Dialogue 7 will take place Wednesday, March 7 to Saturday, March 10. The event will bring together Shi'a Muslim scholars from the Imam Khomeini Education and Research Institute (IKERI) in Qom, Iran and Mennonite scholars from Canada and the U.S. for a series of presentations, responses, and discussions on the topic, "Religion and Youth."