2022 CSOP Lecture: "Choosing Love in the Wake of Wounding"
June 16 public lecture will focus on transformative justice as powerful response to violence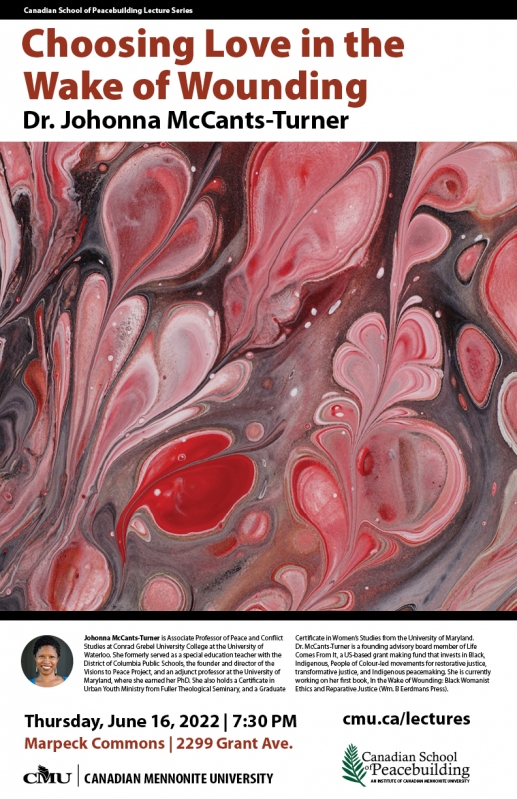 Canadian Mennonite University (CMU) will host its annual Canadian School of Peacebuilding (CSOP) lecture on June 16 at 7:30 PM in Marpeck Commons. Acclaimed professor, activist, and thought-leader Dr. Johonna McCants-Turner will give this year's public lecture.
Presenting "Choosing Love in the Wake of Wounding," McCants-Turner will be discussing how women of colour and practitioners in the transformative justice movement respond to violence by creating space for healing and accountability without punishment.
As the Associate Professor of Peace and Conflict Studies at Conrad Grebel University College at the University of Waterloo, McCants-Turner has spent her career interrogating how violence and safety are categorized and interpreted in modern society. Her work draws from critical race theory, women's studies, and liberatory Christian theologies.
McCants-Turner holds a Certificate in Urban Youth ministry and a Graduate Certificate in Women's studies from the University of Maryland, where she later served as adjunct professor and received her PhD. McCants-Turner is a founding member of Life Comes From It, a US-based grant-making fund that invests in Black, Indigenous, People of Colour-led movements for restorative and transformative justice.
Jodi Dueck-Read, CSOP academic director, says that the overabundant, consistently bad news peddled on social media often leads people towards apathy rather than action. Still, she is confident in the pursuit of peacebuilding. She says that lectures like this will provide "the opportunity to listen to an impassioned scholar of justice-making may enlighten and renew our thinking and acting on our peacebuilding journey."
Dr. Johonna McCants-Turner's work has focused on the power of transformative justice in modern society. She will present a public lecture on the CMU campus on June 16 at 7:30 PM.
"Embracing a path to justice-building is a timely and relevant message in light of societal divisions," says Dueck-Read.
CSOP is an institute of CMU that offers two weeks of intensive courses each June. A broad network of diverse peacebuilders gathers on campus to learn, network, and practice peace through these courses. McCants-Turner will teach a class titled "Reparative Justice and Womanist Ethics" from June 13-17. The course will examine how womanist ethics, a stream of thought that amplifies the wisdom and agency of Black women, can guide reflections on the ethical dilemmas proposed by anti-violence movements.
This lecture is free and open to the public, available in-person and via livestream. For more information, visit cmu.ca/lectures.
Printed from: media.cmu.ca/news-release-2022-csop-lecture