CMU faculty awarded prestigious federal grants
Two professors from Canadian Mennonite University's Menno Simons College (MSC) are recipients of prestigious federal grant funds through the Social Sciences and Humanities Research Council (SSHRC).
Dr. Jerry Buckland, Professor of International Development Studies, received a grant worth $263,000. Dr. Kirit Patel, Assistant Professor of International Development Studies, received $75,000.
"These successful grants are a testament to the impressive research track-records of these two professors," said Dr. Neil Funk-Unrau, Associate Dean of the college. "For MSC, it is an affirmation of the academic community that sustains and supports the work done by our researchers."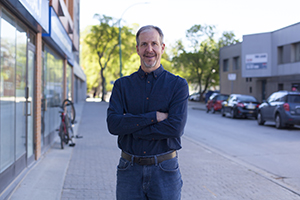 Dr. Jerry Buckland, Professor of International Development Studies
Buckland's grant is for a five-year project using financial diaries to better understand the finances of vulnerable Canadians, with a view to financial empowerment.
In two phases, Buckland and his team will explore the economic, social, and regulatory implications of financial products and policies for vulnerable Canadians.
The first phase will look at the financial patterns of participants from Winnipeg and the surrounding area over an 18-month period. The second will follow participants for a further 18 months, but this time the team plans to intervene, providing financial tools for financial empowerment.
"The economy is becoming more financially challenging," Buckland said. "There are more financial products, more decisions to be made. We're facing more complicated choices, so we want to understand how vulnerable people work through these complicated choices and difficult challenges."
Patel's grant of $75,000 will go toward researching the impacts of Green Benches of State High Courts and National Green Tribunals on disadvantaged communities in Tamil Nadu, Kamataka, and Gujarat states in India.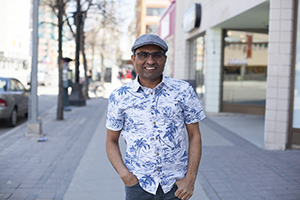 Dr. Kirit Patel, Assistant Professor of International Development Studies
"Just as divorce cases go before the Family Court, and criminal cases go before the Criminal Courts, in India, environmental cases go before the Environmental Courts," Patel said. "It's an innovative idea, and we want to understand the intended and unintended impacts."
In this initial phase, Patel will examine participation in the environmental judiciary through the lens of local NGOs, women, and the science of Environmental Impact Assessments.
"In developing countries, issues of poverty and the environment are overlapping more and more," Patel said. "And in these cases, there are often tradeoffs between the environment and the poor."
SSHRC mandates the training of students, whether undergraduate or graduate.
To that end, Patel and his team have hired three MSC undergraduate students as research interns.
In the fall, Buckland and his team have plans to hire senior undergraduate and graduate students to participate in data collection from the financial diaries.
Both professors are excited to receive funding from SSHRC.
"It was a long process. I would say it was a year in the making," Buckland said. "SSHRC has a highly acclaimed process for vetting applications. That I got this the first time I applied, I was just thrilled."
About CMU
A Christian university in the Anabaptist tradition, CMU's Shaftesbury campus offers undergraduate degrees in arts, business, humanities, music, sciences, and social sciences, as well as graduate degrees in theology, ministry, peacebuilding and collaborative development, and an MBA. CMU has over 800 full-time equivalent students, including those enrolled in degree programs at the Shaftesbury and Menno Simons College campuses and in its Outtatown certificate program.
For information about CMU visit www.cmu.ca.
For additional information, please contact:
Kevin Kilbrei, Director of Communications & Marketing
kkilbrei@cmu.ca; 204.487.3300 Ext. 621
Canadian Mennonite University
500 Shaftesbury Blvd., Winnipeg, MB R3P 2N2
Printed from: media.cmu.ca/faculty-awarded-prestigious-grants