Bachelor of Science degree at CMU: Fall 2018
CMU announces Bachelor of Science degree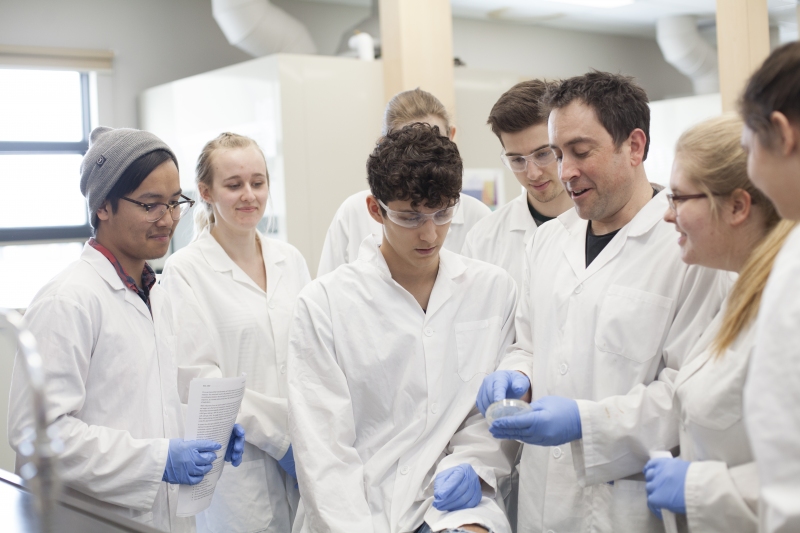 Starting in Fall 2018, Canadian Mennonite University (CMU) will offer four new Bachelor of Science (BSc) degree options as part of its academic programming—General (three-year), Mathematics (three-year), Biology (four-year), and Mathematics (four-year).
The BA Mathematics degrees will remain, with no change, serving students looking for more flexible elective space. The addition of a BSc to CMU's offerings is not only a response to growing demand, but is a natural fit, given the university's mission.
"CMU's teaching, research, and service equip women and men for lives of service, leadership, and reconciliation in church and society'. These commitments also imply a role for the natural sciences and mathematics within the curriculum at CMU," stated Jonathan Dueck, CMU's Vice President Academic.
"Indeed, faculty have expressed that 'developing science is connected to the heart of the CMU project,' as described by our Mission Statement."
The CMU BSc will be unique in its inclusion of a broad interdisciplinary base, helping students to see the beauty and complexity of the world from various perspectives within science, biblical and theological studies, humanities, and social sciences. The goal is to create critical thinkers, trained in diverse ways of thinking and knowing.
Communication skills developed at CMU will enable them to bridge gaps to other fields, and be understood by scientists and non-scientists alike. Guided by nurturing PhD professors who are active researchers in their own fields, students will gain handson experience in the process of scientific inquiry and, as a result, become creative, lateral thinkers who will be resilient and adaptable as advances in theory and technology change how science is performed.
Candice Viddal, Assistant Professor of Chemistry and Physics, asserts Science is not distinct from the liberal arts, but a part of them.
"At its heart, science is an expression of curiosity, the objective of which is to explain how the natural world works, and the place of humanity in it. However, science is often discussed almost interchangeably with the technologies science has given birth to; and science education with direct training for careers that make use of these technologies: in engineering, health, agriculture, and informatics, among many others. Notwithstanding the importance of preparing students for the technical demands of their vocations, the underlying purpose of science is understanding, rather than control. If curiosity and a sense of wonder and humility are at the heart of science education, the technical and critical skills needed for careers in scientific fields will follow."
A CMU BSc will provide the well-rounded foundation that will inspire and equip our future scientists to make a positive difference in the world.
About CMU
A Christian university in the Anabaptist tradition, CMU's Shaftesbury campus offers undergraduate degrees in arts, business, humanities, music, natural sciences, and social sciences, as well as graduate degrees in Theology and Ministry, Business Administration, Peacebuilding and Collaborative Development. CMU has over 1,600 students, including those enrolled in degree programs at its Shaftesbury Campus and Menno Simons College Campus. CMU is a member of Universities Canada.
For information about CMU, visit: cmu.ca
For additional information, please contact:
Kevin Kilbrei, Director of Communications & Marketing
kkilbrei@cmu.ca; 204.487.3300 Ext. 621
Canadian Mennonite University
500 Shaftesbury Blvd., Winnipeg, MB R3P 2N2
Printed from: media.cmu.ca/bscannouncement