CMU history professor awarded $93,000 federal grant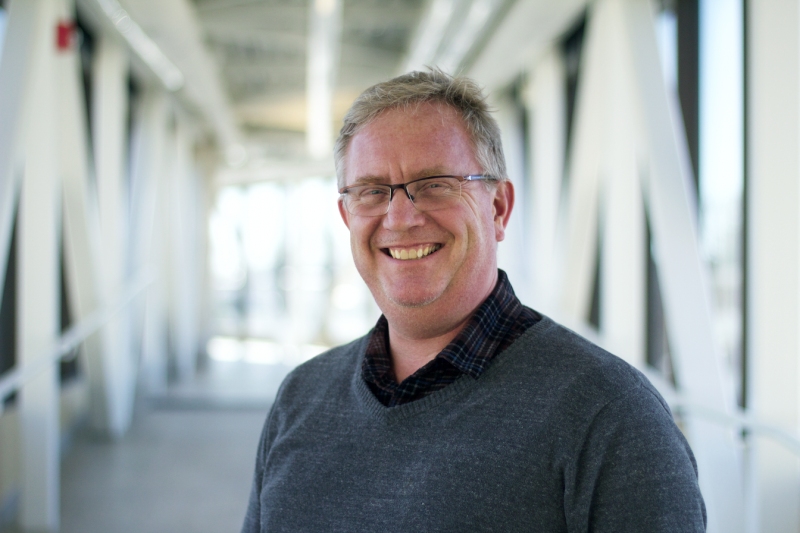 A Canadian Mennonite University (CMU) professor is the recipient of a prestigious federal grant.
Dr. Brian Froese, Associate Professor of History, received a five-year grant worth $93,000 through the Social Sciences and Humanities Research Council (SSHRC). Froese will use the grant for a research project addressing the intersection of conservative religion and politics in Western Canada from the 1880s to 1960s.
"It's exciting," Froese says. "Getting the grant affirms for me that the research I am doing is important, and that it is of significance to people beyond scholars in my field."
Titled Trekking North: Conservative American Religious and Political Migrations to Western Canada, Froese's project examines transnational Canadian-American religious and political networks created by a broad range of evangelical Protestants.
In doing so, the project investigates two larger historical themes: the context for American migrations north to Western Canada, and the relationship between religion and "populist" conservative politics.
The project begins with early Mormon migration to Alberta and their entry into political life from the 1880s on, to the post-First World War conservative American interest in Western Canada that appeared in many groups, including Ku Klux Klansmen from Oregon, Nebraska, and Indiana seeking allies and expansion, Southern Baptists seeking converts, or Pennsylvanian and Texan oilmen seeking resources.
Many questions are being asked today about what role, if any, religion should play in Canadian political culture, Froese notes. Understanding how these issues were navigated in the past will provide people with better insight into contemporary debate.
"There are numerous conflicts and social pressures over the course of the decades I'm researching that I think speak to some of the concerns we face in our world today," Froese says. "I'm looking forward to exploring that."
Trekking North grows out of Northern Errand, an upcoming book from Froese that explores American Evangelical mission work in Western Canada.
Froese will use the SSHRC grant to fund archival research trips to Indiana, Utah, Southern California, and throughout Western Canada. He has already begun his research, and will continue with it throughout an upcoming sabbatical during the 2018-19 school year.
The grant will allow Froese to train promising students in historical inquiry by involving them in archival research, writing, and conference presentations.
The results of Froese's research will be communicated in peer-reviewed journals, community-oriented publications, and a website.
The ultimate communication of this project will be a scholarly book.
"It's an honour someone is trusting me with this, so I look forward to doing well by that trust," Froese says.
Froese's project is provocative and timely, says Dr. Jonathan Dueck, Vice-President Academic and Academic Dean at CMU.
"The stories Brian has already been gathering for the project are fascinating and will make an impact in Canadian studies, and in the history of religion and migration in North America," Dueck says. "CMU students studying with Brian will benefit from this brand-new research, and CMU students working as part of Brian's team will help to make this research happen. We at CMU are very proud of Brian's work."
Froese says that he has received significant support from CMU, particularly Dr. Maureen Epp, Research Office Facilitator, who assisted him with the grant application.
"I would like to give my thanks to CMU for supporting this project and for encouraging me in my work," he says.
Educated at the University of Winnipeg (BA), Regent College (MCS), and the Graduate Theological Union, Berkeley, CA (PhD), Froese joined CMU's faculty in 2006. Johns Hopkins University Press published his most recent book, California Mennonites, in 2015.
About CMU
A Christian university in the Anabaptist tradition, CMU's Shaftesbury campus offers undergraduate degrees in arts, business, humanities, music, sciences, and social sciences, and graduate degrees in Theology and Ministry. CMU has over 1,600 students, including those enrolled in degree programs at its Shaftesbury Campus and Menno Simons College Campus. CMU is a member of Universities Canada.
For information about CMU, visit: cmu.ca
For additional information, please contact:
Kevin Kilbrei, Director of Communications & Marketing
kkilbrei@cmu.ca; 204-487-3300 Ext. 621
Canadian Mennonite University
500 Shaftesbury Blvd., Winnipeg, MB R3P 2N2
Printed from: media.cmu.ca/brianfroesesshrcgrant