News & Releases
Posted in Stories • Tuesday, March 13, 2018 @ 1:52 PM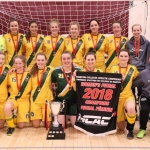 Posted in Stories • Monday, March 12, 2018 @ 5:23 PM
Posted in Video • Tuesday, March 6, 2018 @ 9:15 AM
Posted in Faculty Profiles • Friday, March 2, 2018 @ 1:51 PM
Dr. Dietrich Bartel, Dean of the School of Music and Professor of Music, has taught at CMU and CMBC (one of CMU's predecessor colleges) since 1985. He will retire this spring.
Posted in News Releases • Thursday, March 1, 2018 @ 12:00 AM
A 16-year-old interfaith dialogue between Mennonite and Shi'a Muslim scholars—held in Canada and Iran over the years—will continue at Canadian Mennonite University (CMU) next week.
Shi'a Muslim-Mennonite Christian Dialogue 7 will take place Wednesday, March 7 to Saturday, March 10. The event will bring together Shi'a Muslim scholars from the Imam Khomeini Education and Research Institute (IKERI) in Qom, Iran and Mennonite scholars from Canada and the U.S. for a series of presentations, responses, and discussions on the topic, "Religion and Youth."
Print This Article