Public Events
Public Lectures
Canadian Mennonite University presents a number of annual lecture series, including:
The J.J. Thiessen Lecture Series
Founded in 1978 by Canadian Mennonite Bible College, the J.J. Thiessen Lectures are named in honour of a founder and long-time chairperson of the CMBC Board. The lectures seek to bring to the Canadian Mennonite University community something of his breadth of vision for the church.
October 30–31, 2017
Faith and Toleration: A Reformation Debate Revisited
with Dr. C. Arnold Snyder
[ NEWS RELEASE ]
Five hundred years ago Martin Luther composed 95 theses for debate in Wittenberg, sparking what we have come to call the Protestant Reformation. Luther's understanding of salvation by faith through grace initially led him to conclude that matters of belief and conscience must be left to the individual and God, and cannot be coerced by any external means. But Luther's theological principles were divisive, and brought on a crisis of governance. Kings, princes and city magistrates, faced with contradictory faith claims, now had to decide how best to govern. Should dissenting religious beliefs be tolerated on religious principle and toleration established as civic policy? These lectures will explore some of the ensuing Reformation events and debates, drawing some conclusions for our day.
Lecture #1: Monday, October 30
7:30 PM (CMU Chapel, 600 Shaftesbury Blvd.)
Scripture Alone, Faith Alone, Toleration Doubtful
One might have thought that the central evangelical teaching that faith is a God-given, spiritual, inner, and personal matter would have led to a wave of religious toleration accompanying the Reformation. This never materialized. Instead, a tsunami of intolerance and violence swept away thousands of people into prison, exile and martyrdom. What happened?
Lecture #2: Tuesday, October 31
11:00 AM (CMU Chapel, 600 Shaftesbury Blvd.)
"Compel them to come in": The Theology of Intolerance Examined
Protestant theologians, both Lutheran and Reformed, soon became champions of state churches that required all subjects and citizens to attend their churches and swear allegiance to state-sanctioned confessions of faith. How did these Christian theologians justify coercion, torture and even execution in the name of true faith?
Lecture #3: Tuesday, October 31
7:30 PM (CMU Chapel, 600 Shaftesbury Blvd.)
Hiding in Plain Sight: Anabaptism and Toleration in Switzerland
Anabaptism was officially outlawed in every state of the Swiss Confederation, with all Reformed pastors and civil officials under oath to report violations. Nevertheless, Anabaptist communities survived into the seventeenth century. Archival records shed important light on the phenomenon of de facto toleration that made Anabaptist survival possible in Switzerland.
About Dr. C. Arnold Snyder
C. Arnold Snyder (PhD McMaster University) is professor emeritus of History, University of Waterloo. He taught at Bluffton College from 1979 to 1984 and then at Conrad Grebel University College from 1985 until his retirement in 2011. His research continues to focus on sixteenth-century Anabaptism.
He has written and edited several books on this topic, including Anabaptist History and Theology: An Introduction (Pandora Press, 1995), Following in the Footsteps of Christ (Orbis, 2004), and Later Writings of the Swiss Anabaptists, 1529-1592 (Pandora Press, 2017). He has also published numerous articles.
John and Margaret Friesen Lectures
The John and Margaret Friesen Lectures in Anabaptist/Mennonite Studies are co-sponsored by Canadian Mennonite University, the Mennonite Heritage Centre, and the Centre for Mennonite Brethren Studies. The inaugural lectures in November 2002 were delivered by Dr. Abraham Friesen (Professor of History, University of California, Santa Barbara), the generous donor who initiated the lecture series.
The 2017 instalment of the John and Margaret Friesen Lectures features Dr. C. Arnold Snyder and is jointly presented as part of the 2017 J.J. Thiessen Lecture Series. [ Details ]
Previous Lectures
2015: Come Watch This Spider: Animals, Mennonites and the Modern World
Lecturer: Royden Loewen, Chair in Mennonite Studies and Professor of History at the University of Winnipeg
2009: Mennonite Women in Canadian History: Birth, Food, and War
Lecturer: Marlene Epp of Conrad Grebel University College.
2008: Church and ethnicity: The Mennonite Experience in Paraguay
Lecturer: Alfred Neufeld, Dean of the School of Theology of the Protestant University of Paraguay.
2007: Mennonite Identity in the 21st Century
Lecturer: John D. Roth
2006: Sacred Spaces, Sacred Places: Mennonite Architecture in Russia and Canada
Presenters: Rudy Friesen, Harold Funk, Roland Sawatsky.
2005: Recovering A Heritage: The Mennonite Experience in Poland and Prussia
Lecturer: Peter Klassen, Professor Emeritus of History, California State University, Fresno.
Proclaiming the Claims of Christ Lecture Series
This lecture series has been offered at CMU since 2007. The series addresses the various dimensions of Christian apologetics (theory, evangelism, Gospel and society, singularity of Christ in a multi-cultural context, etc.).
Previous Lectures
2011: Cancelled
2012: The Unique Gift of Christ
Lecturer: Dr. Benne Jordan-Trexler Professor of Relgion Emeritus and Director of the Center for Religion and Society at Roanoke College, Salem, Virginia.
2010: Proclaiming the Unique Claims of Christ; Negotiating the Christian-Muslim Interface
Lecturer: Emmanuel Ali El-Shariff
2009: Being a Christian in the public media, radio broadcaster, and media commentator
Lecturer: Michael Coren
2008: Proclaiming Christ in a Post-Christian World
Lecturer: John Stackhouse, Regent College.
2007: Joe Boot, evangelist, apologist, author and the executive director of Ravi Zacharias Ministries in Canada.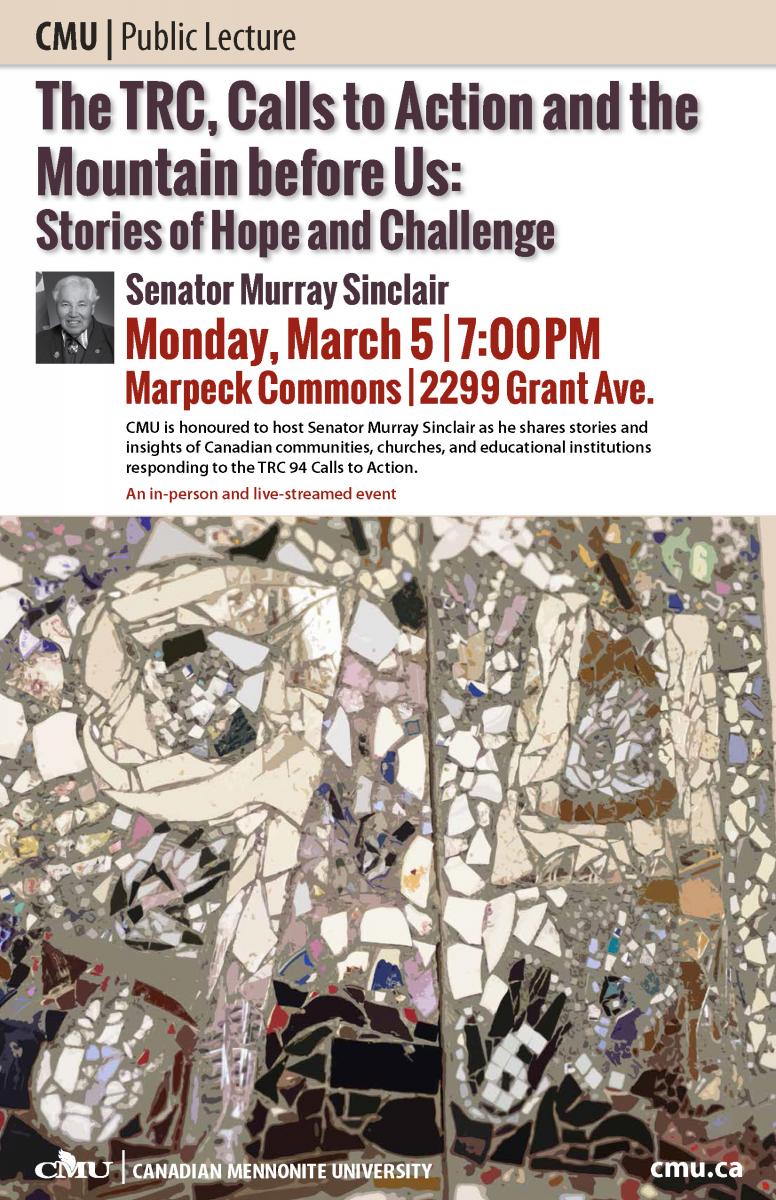 A public lecture with The Honourable Senator Murray Sinclair
The TRC, Calls to Action, and the Mountain Before Us: Stories of Hope and Challenge
[ news release ]
CMU is honoured to host The Honourable Senator Murray Sinclair as he shares stories and insights of Canadian communities, churches, and educational institutions responding to the TRC's 94 Calls to Action.
This is an in-person and livestreamed event. (see livestream feed below)
The Honourable Senator Sinclair served the justice system in Manitoba for over 25 years. He was the first Aboriginal Judge appointed in Manitoba and Canada's second.
He served as Co-Chair of the Aboriginal Justice Inquiry in Manitoba and as Chief Commissioner of the Truth and Reconciliation Commission (TRC). As head of the TRC, he participated in hundreds of hearings across Canada, culminating in the issuance of the TRC's report in 2015. He also oversaw an active multi-million dollar fundraising program to support various TRC events and activities, and to allow survivors to travel to attend TRC events.
Monday, March 5 | 7:00 PM
Marpeck Commons (2299 Grant Ave.)
A public lecture with John Ralston Saul, presented by CMU's Canadian School of Peacebuilding
Living with Uncertainty: The Road to Peace
Canada is more and more isolated from its allies because, without exception, the United States and European countries are shaping themselves towards internal divisions and external fear. They remain caught up the in old 19th Century idea of how nations function. You can see this in Europe on their handling of the refugee crisis. One of the curiosities of the continent is that every year over the last 70 years it has received large numbers of immigrants, and yet it has never been able to admit that this would require massive changes in how they imagine themselves. In many ways, this crisis is all about an immigration continent which cannot admit that reality, and so, has no immigration policy. Only by embracing concepts of uncertainty can they find ways to live together, both within their countries and with their neighbours.
John Ralston Saul is an award winning essayist and novelist whose contributions have had a growing impact on political and economic thought in many countries. Declared a "prophet" by TIME magazine, he is included in the prestigious Utne Reader's list of the world's 100 leading thinkers and visionaries. His 14 works have been translated into 28 languages in 37 countries. Some of his most important works include the philosophical trilogy, Voltaire´s Bastards, The Unconscious Civilization, and The Doubter's Companion with its conclusion, On Equilibrium. His most recent work, The Comeback (Le Grand Retour)—an examination of the remarkable return to power of Aboriginal peoples in Canada—has greatly influenced the national conversation on Indigenous issues in the country. Saul is the former President of PEN International, co-Founder and co-Chair of the Institute for Canadian Citizenship. He is a Companion of the Order of Canada and the Order of Ontario. — johnralstonsaul.com
Rev. Dr. David Widdicombe Lecture
To Sow the Wind: An Argument Against the War on Terror and Other Bad Ideas
Just War theory has received a lot of attention in recent times but the results have been mixed. It is no longer a tradition of thought designed to place strict restraints upon the use of force in the necessary use of force in restraint of evil. Under the pressure of humanitarian interventionism, theories that democracies do not fight wars against each other, American (and Western) exceptionalism, supposed states of emergency, and other ideological adventures upon the turbulent seas of the international order, the tradition has lost its profound Augustinian political skepticism and moral realism. This lecture will ask whether the restraint of force wasn't always a better (foundational) idea than the pursuit of justice in the just war tradition, a tradition that once thought war tragically endemic and sometimes justified, but never simply unambiguously just.
Rev. Dr. Widdicombe is the Rector of Saint Margaret's Anglican Church in Winnipeg.
[ news release ]
Winter Lecture Series
The CMU Winter Lectures was an annual public lecture series that highlighted the arts, science, humanities, and interdisciplinary studies at CMU and to foster dialogue between these disciplines and the Christian faith. The series ran from to 200 to 2011.
Audio/video recordings of these lectures are available through CommonWord Bookstore and Resource Centre.
2011: Resonance, Receptivity and Radical Reformation
Lecturer: Dr. Romand Coles, McAllister Chair in Community, Culture, & Environment at Northern Arizona University. Resonance, Receptivity and Radical Reformation
2010: Paradoxes of Reconciliation
Lecturer: Vern Redekop, Associate Professor of Conflict Studies at Saint Paul University in Ottawa. Topic: Paradoxes of Reconciliation
2009:Placing Our Faith in a Placeless World?
Lecturer: Dr. Norman Wirzba, Research Professor of Theology, Ecology and Rural Life, Duke Divinity School. Topic: Placing Our Faith in a Placeless World?
2008: Art, Beauty and Christian Theology
Lecturer: Erica Grimm Vance, Assistant Professor and Visual Arts Coordinator, Trinity Western University. Topic: Art, Beauty and Christian Theology.
2007: Cosmology, Evolution and Resurrection Hope
Lecturer: Dr. Robert Russell, Professor of Theology and Science, Graduate Theological Union, and Director for the Center for Theology and the Natural Sciences. Topic: Cosmology, Evolution and Resurrection Hope.
2006: Alvin Dueck, Evelyn and Frank Freed Professor of the Integration of Psychology and Theology, Fuller Theological Seminary—Topic: Psychology and Theology.
Printed from: media.cmu.ca/events/lectures